Share this graphic on your site!
Yes, It Happens Here, Too: Human Trafficking in the U.S.
Slavery still exists in the United States in the form of human trafficking. Human trafficking involves forcing or coercing people to participate in unpaid labor, domestic servitude or prostitution. Victims endure horrific abuse, both physical and mental, and many do not make it out alive.
The Frightening Numbers
Human trafficking is a $32 billion-a-year industry; that's larger than the illegal arms industry. (1)
4.5 million
Number of people who have been lured, forced or sold into sex trafficking in the U.S. (1)
Victims of human trafficking live an average of only seven years once they've been trafficked. (1)
Calls made in 2015 to human trafficking hotline by state (2)
California: 3,609
Texas: 1,731
Florida: 1,518
Ohio: 1,066
New York: 924
Michigan: 717
Georgia: 641
Virginia: 624
Illinois: 555
New Jersey: 543
Pennsylvania: 514
North Carolina: 463
Maryland: 454
Washington: 410
Missouri: 365
Arizona: 355
Colorado: 310
District of Columbia: 298
Nevada: 277
Louisiana: 276
Tennessee: 262
Massachusetts: 258
Kentucky: 257
Oregon: 252
Indiana: 243
South Carolina: 233
Wisconsin: 227
Minnesota: 224
Alabama: 186
Iowa: 146
Oklahoma: 146
Kansas: 126
Connecticut: 120
Arkansas: 109
Mississippi: 107
Utah: 101
Nebraska: 101
New Mexico: 90
Hawaii: 68
Montana: 66
South Dakota: 64
Maine: 59
Idaho: 58
West Virginia: 48
North Dakota: 48
New Hampshire: 47
Rhode Island: 40
Alaska: 37
Wyoming: 32
Delaware: 28
Vermont: 28
Trafficking types reported (2)
Sex: 73%
Labor: 14%
Not specified: 9%
Sex and labor: 4%
Gender (2)
Female: 84%
Male: 13%
Gender minorities: 3%
Age (2)
Adults: 67%
Minors: 33%
Child Trafficking
Children are often targets for traffickers because they are easier to manipulate. People under 18 are also in higher demand in the sex trafficking industry.
The average victim age is 11 to 14. (1)
300,000
Number of Americans under 18 who are lured into the commercial sex industry each year (1)
76%
Percentage of transactions for sex with underage girls that start on the internet (1)
Signs and Help
Is human trafficking happening to someone you know? Here are some common signs of a trafficked individual. Warning signs to look for in a person include: (3)
Not being able to come or go as they please
Constantly having to take orders or get permission from someone else
Working excessive hours but never talking about their job
Talking about a large debt they can't pay off
In a constant state of fear or paranoia, particularly focused on the police
Appearing malnourished or, particularly for children, not taken care of
Showing signs of physical or sexual abuse
Having few or no personal possessions
Showing a suspicious lack of knowledge about the area they live in
To report suspected human trafficking, call the National Human Trafficking Hotline at 1-888-373-7888. Or text HELP to: BeFree (233733).
Making a difference
Over the past two decades, some important legislation has been put in place to slow its growth and hopefully one day stop the human trafficking industry. (3)
The Trafficking Victims Protection Act of 2000
This act established the methods for investigating and prosecuting suspected human traffickers. This legislation also established the Interagency Task Force to Monitor and Combat Trafficking, which implements the laws put forth by the act.
The PROTECT Act of 2003
The Prosecutorial Remedies and Other Tools to End the Exploitation of Children Today (PROTECT) Act established harsh, extensive penalties for U.S. citizens taking part in sex tourism, either within the U.S. or other countries. This act also created the Amber Alert system for lost or abducted children.
The National Defense Authorization Act of 2013
This act gave the U.S. government the right to terminate any contract with a country, agency or individual that engages in or supports human trafficking.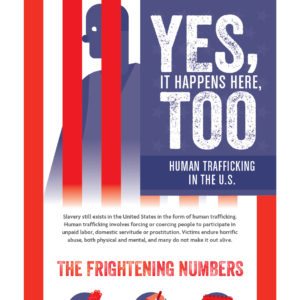 Sources
1. http://arkofhopeforchildren.org
2. https://humantraffickinghotline.org
3. https://polarisproject.org