Share this infographic on your site!
Criminalizing Mental Illness
Are America's prisons the new mental hospitals?
America's Shameful Past
By 2012: there were 10X as many mentally ill individuals in jail or prison than in mental hospitals
• Jailed: 365,000
• Hospitals: 35,000
16: percentage of males in prison now, suffer from some form of severe mental illness
That's up from:
6.4: the percentage of males in prison with mental illness in 1983
40: percentage of individuals with serious mental illnesses have been in jail or prison at some time in their lives
Nowhere Else to Put Them?
In 1955 there was one psychiatric bed for every 300 Americans.
In 2005 there was one psychiatric bed for every 3,000 Americans
Over 1 in 3 State prisoners,
1 in 4 Federal prisoners, and
1 in 6 jail inmates who had a mental health problem had received treatment since admission
Prisons are bad for mental health; here's why:
• overcrowding
• violence,
• solitude/lack of privacy
• no meaningful activity
• isolation
• insecurity about the future
• inadequate health services
• high incidence of suicide
Suicide, the leading cause of local jail inmate deaths, remained at about the same level in 2010 (305 suicides) as in 2009 (304), although the number has trended upward slightly since 2006
What to do for those in prison?
• Divert people towards the mental health system
• Access to mental health care
• Access to psychiatric wards of general hospitals
• Psychotropic medication
• Better trained staff
• Provide information/education to prisoners and their families on mental health issues
• Better prison management
• Protect their human rights
These organizations help prisoners with mental issues:
Bureau of Justice Assistance
https://www.bja.gov/
Human Rights Defense Center
https://www.humanrightsdefensecenter.org/
Mind Freedom
http://www.mindfreedom.org/kb/prison-mental-health/psychiatry-corrections
Prison Reform Trust
https://prisonreformtrust.org.uk/
Treatment Advocacy Center
https://www.humanrightsdefensecenter.org/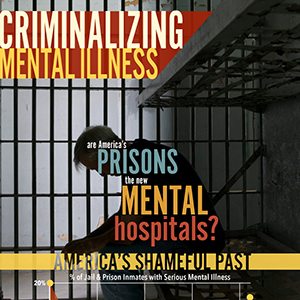 Sources:
http://www.nationalhomeless.org/factsheets/why.html
http://www.who.int/mental_health/policy/mh_in_prison.pdf
Bureau of Justice Statistics
http://www.treatmentadvocacycenter.org/storage/documents/final_jails_v_hospitals_study.pdf
http://billmoyers.com/2012/05/30/infographic-u-s-incarceration-rates/
http://www.bjs.gov/content/pub/pdf/mljsp0010st.pdf
http://www.nimh.nih.gov/health/statistics/prevalence/inmate-mental-health.shtml