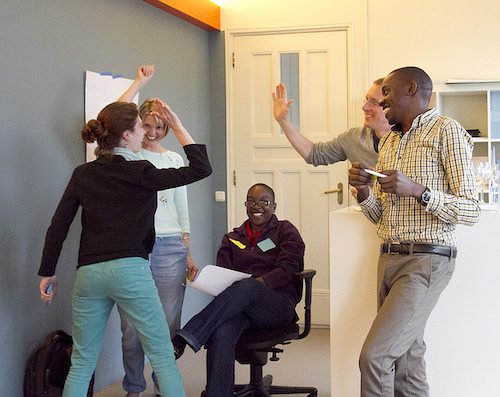 Source: Kennisland (flickr)
In our research to find the best of the best social work and related blogs, we noted that a great number of older blogs had been retired — some with clever names. While many have posts worth reading, we've decided to list only those blogs which have had some posting activity within the past nine months. Life gets busy sometimes and blogging is not always a top priority, and bloggers do often come back and post again. Our filter is essentially to include recently-active English-language blogs in some way relating to social work. For relevance, we've focused primarily on American-authored blogs, though a few non-U.S. but English-language social work blogs which may interest you are in the list, too.
[Thinking about earning your social work degree? Check out our ranking of the best online MSW programs.]
ACRONYMS:
Here is a list of social work acronyms that the bloggers listed here have mentioned in their blogs — usually their credentials/ designation or associations to which they belong.
ACSW – Academy of Certified Social Workers.
AMHP – Approved Mental Health Professional.
CCSW – Certified Clinical Social Worker.
CDP – Certified Dementia Professional. (Also Chemical Dependency Professional.)
CISW – Certified Independent Social Worker.
CSW – Clinical Social Worker. Sometimes means Certified Social Worker, which is not to be confused with CSW-C (Certified Social Worker – Clinical)
DSW – Doctor of Social Work
LCSW – Licensed Clinical Social Worker
LICSW – Licensed Independent Clinical Social Worker
LISW – Licensed Independent Social Worker
LLMSW – Limited License Master Social Worker
LMSW – Licensed Master Social Work
LSW – Licensed Social Worker
MSW – Master of Social Work
MSSW – Master of Science in Social Work
NASW – National Association of Social Workers
If an acronym mentioned in the resource list below is not listed above, check NetworkTherapy.com's list of credential abbreviations.
Associations, Organizations and Consultants
Social Workers Speak — Social Workers Speak — from NASW (National Association of Social Workers) — has a number blogs, including the more active Hollywood Connection, which looks at the way social workers are portrayed in entertainment media.
NASW Social Work Blog — Social Work Blog is an NASW (National Association Social Workers) blog, which covers current social issues of interest to the general public.
Nicole Clark Consulting — Nicole Clark consults for organizations on programs and services for "marginalized communities," and blogs about her work as an LMSW professional, her workshops and speaking engagements and other efforts.
The Political Social Worker Blog — Rachel West is a MSW, LMSW and an advocacy and community outreach consultant who writes about social work issues in politics and community practice, plus her webinars.
General Social Work
Social Justice and Human Rights
Social Work and Mental Health
The Masked AMHP — This blog covers topics surrounding social work and mental health, by an Approved Mental Health Professional.
Markham's Behavioral Health — This blog covers a variety of social work-related issues including mental health, substance abuse, general public health, spirituality, education and more, and often takes advantage of YouTube and other video content.
Hold my hand: a social worker's blog — Personal stories and reflections on social work from a triply-designated (MSW, LCSW, CDP) professional with a focus on dementia patients and hospice and welfare work.
What a Shrink Thinks — Thoughts about life and living from the perspective of an LCSW who is also a psychotherapist.
Gamer Therapist — This site has been a bit dormant in the latter half of 2014, but hosts a unique blog which looks at the intersection of psychotherapy and gaming/ gamification, by a LICSW.
The Zen Social Worker — Thoughts from a social worker who focuses on therapeutic counseling in Canada, with some training in the United states.
A Healthy Life — A Healthy Life's author blogs from the New York City-dwelling perspective of a psychotherapist and LCSW.
Creative Clinical Social Worker — This blog is by an MSW and covers topics about child and adolescent mental health therapy, as well as answers questions about social work education and careers.
Notes from the Couch — A blog by another multi-credentialed social worker (MSW, LCSW, CAS-PC) who is also a psychotherapist and focuses on compassion and caring, and counselling living instead of coping.
Social Work Careers and Practice
Social Work Education
MSW@USC Blog | Master of Social Work Blog — This is the blog of the University of Southern California Master of Social Work program.
Jae Ran Kim — The blog of JaeRan Kim, a Ph.D. student in social work, covers a range of topics, including ethics, education and pratice in social work.
Social Work Career Development — This blog by Dorlee M, an LMSW, covers mental health, social work resources, interviews with professionals on modalities and practices, licensing exam tips and more.
The Social Work Graduate School Site — This site doubles as both a blog and an educational resource for Master of Social Work hopefuls, brought to you by The New Social Worker magazine (elsewhere in this list).
NYUSilver Student Affairs Blog — This is New York University's Silver School of Social work student affairs blog, which covers both school topics (academic support, news, scholarships) as well as global social issues. The school also has blogs for alumni affairs and a social work jobs.
Virtual Connections | Exploring Social Work in the Digital Age — These are the posts of Nancy J. Smyth, a professor and the Dean of the University at Buffalo School of Social Work.
Social work and end-of-life care — Malcolm Payne focuses on the difficult effort of social work for those people at the end of their lives, and consults and educates others pursuing similar careers in the UK.
Jimmysw's Blog — Jimmysw's Blog is by a PhD/ assistant professor in social work (at University of Nebraska) and covers social work issues as well as technology, education and other topics.
Michigan Girl's Cafe — This blog covers social work grad school and practice, with resources, job titles, and info on careers in the higher education, non-profit and government sectors.
Loyola University Chicago School of Social Work Blog — This is Loyola University Chicago's School of Social Work blog, which while low on posting frequency, covers both school-specific and general tips for social work careers.
Can You Hear Me? — This is a community support blog by an MSW who is an adjunct lecturer at University of Southern California's School of Social Work, and also an External Field Instructor.
Mimi Chapman: Intersections — This is bog is by Mimi Chapman, an associate professor at UNC Chapel Hill's School of Social work, and covers the personal and professional aspects of her career in social work.
Teaching Social Work — This is the blog of Laurel Hitchcock, an assistant professor in the University of Alabama – Birmingham Department of Social Work, which focuses on the learning facet of professional social work practice.
UNC School of Social Work: Contact Magazine — Contact is a combination online magazine and blog, presented by University of North Carolina (UNC; Chapel Hill) School of Social Work.
U of Buffalo inSocialWork Podcast Series — This is SUNY Buffalo's School of Social Work's podcast series blog for practitioners and researchers in social work.
SocialWork@Simmons Blog — This is the blog of Simmons University School of Social Work, which covers topics of interest to students at the school and also general social work issues.
World Social Work
Tibetan Social Work — Despite the title, this is an English language blog about Leann Halsey's social work efforts in India and Tibet, and for promoting the organization Pennies for Partnerships (PFP).
Social Work Around the World — This blog provides a view of social work not just in the United States but around the world, and some of the current issues in the news.