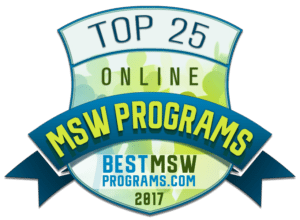 With a duty to help provide individuals, families, and communities to the services they need, whether for mental health, financial stability, or social welfare, the Social Worker is one of the most important, and usually unsung, occupations in a civilized democracy. It is not a glamorous field – there are no celebrity social workers – but it is a necessity, and as government and private charity services grow and develop, the Bureau of Labor Statistics finds that the field is growing by 12%, with new jobs opening up for qualified social work experts all the time. Furthermore, PayScale reports that MSW degree holders can earn average salaries of more than $60,000. Check out our report on the Highest Paying Careers Within Social Work for more information on Social Work careers.
Most social workers begin their professional career with a bachelor's degree, or even just a two-year associate's degree, maybe in social work, but often in another discipline. And while that can be a satisfying job, social workers often find themselves blocked from promotion and advancement because of their degree or lack of social work specialization. Today, higher-responsibility and higher-paying positions require a graduate degree, usually a Master's in Social Work (MSW) or a Master of Science (MS) in Social Work.
MSW holders can take on a wide variety of specializations and occupations, including:
• Adoption specialist
• Cardiovascular social worker
• Counselor
• Family advocacy representative
• Policy planning specialist
• Public health manager
Since many social workers do not recognize the need for a graduate degree until they are already working in the field, MSW programs are quite common in adult education, and online degrees have become prevalent. The advantage of an online degree is the ability to earn the higher credentials you need while not having to put your career on hold. Online programs are often asynchronous (with classes recorded for any time, instead of meeting at a scheduled time), and with experience working in the field, many online MSW programs will allow working professionals to count their employment experience as credit.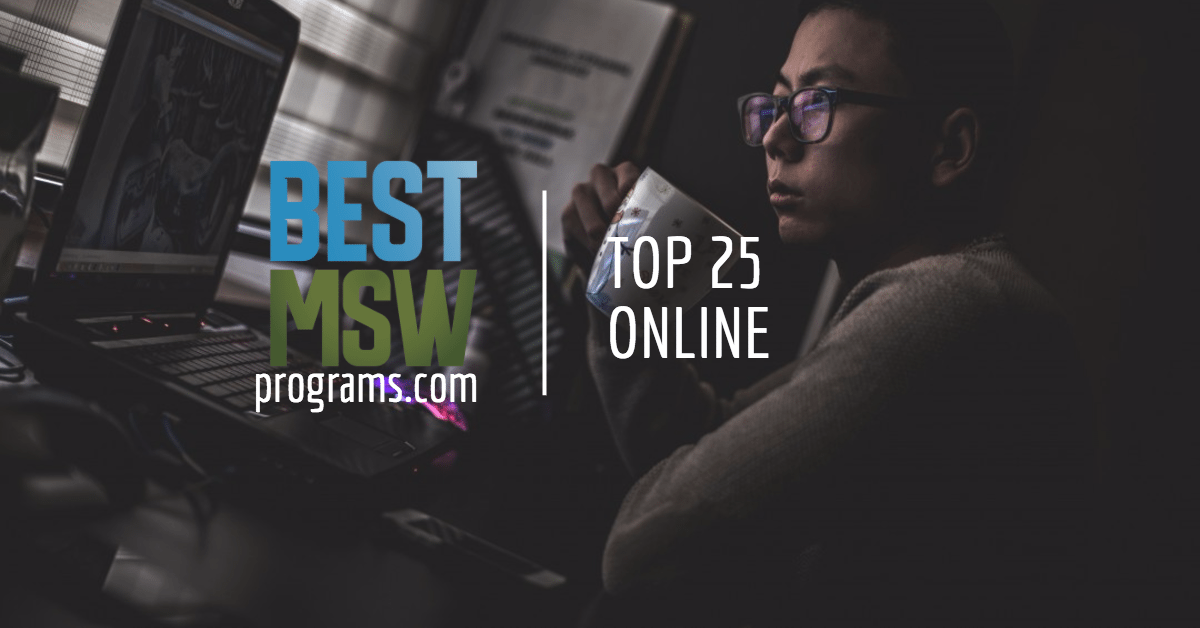 With the demand for online MSW degrees, we realize that prospective MSW students may be confused about the best options for them. That's why BestMSWprograms has compiled this ranking of the 25 best online MSW degree programs in the US right now. These programs come from major public research universities, regional public colleges, Christian and Catholic institutions, and everything in between to help you find the right fit for you.
Ranking is based on three metrics:
US News & WR 2016 Grad School – Social Work ranking (https://www.usnews.com/best-graduate-schools/top-social-work-schools/social-work-rankings/)
Cost per online credit (in-state used)
Alumni Salary data from College Scorecard website
Priority was given to institutions accredited by the Council on Social Work Education (CSWE).
1. Boston University – Boston, MA
Boston University is an historically renowned university, which guides students toward leadership development, and is known for their commitment to social and economic justice. It was ranked third in the nation for online MSW programs by the US News and World report. The MSW program boasts excellent scholarship and faculty, research and political action, as well as stand-out field placements that give students an unparalleled level of field experience prior to graduation.
The BU online MSW degree program offers both Macro and clinical social work concentrations with multiple track options including: traditional MSW track; Human Services track; and Advanced Standing Track, for students who enter the program with an undergraduate social work degree from a baccalaureate program accredited by the Council on Social Work Education. With the innovative and dynamic curriculum options at Boston University, students will explore social work from all angles, and come out with a competitive edge.
Cost per Credit: $750
Accreditation: CSWE
2. University at Buffalo (SUNY) – Buffalo, NY
The flagship Buffalo campus of the State University of New York system is one of the most diverse campuses in the United States, located at the center of the US and Canadian border region, as well as near two American Indian reservation communities. In addition to attracting a huge number of international students, Buffalo provides students with a broad and deep education, both inside and outside the classroom setting. As the university with the largest and most comprehensive research center in the State University of New York system, students are offered the opportunity to excel in their area of interest.
The MSW online program at Buffalo offers options for students with Bachelor's degrees in Social Work and those without. As a public school, tuition rates at Buffalo are as low as one quarter the cost of a social work program as a private school. The MSW program at Buffalo promises to offer students opportunities that exceed the expectations of a 21st century social work education, including the integration of trauma-informed and human rights perspectives directly into thecurriculum, and as a thread throughout the program, providing a cutting-edge model for students to take into the field as leaders.
Cost per Credit: $453
Accreditation: CSWE
3. University of Houston – Houston, TX
This champion tier-one campus is located in Houston's cultural epicenter. The University of Houston is touted one of the most diverse student populations in the US and ranked among the best post-secondary institutions in the nation. UH is known for award winning faculty and alumni who have gone on to become international leaders. They are known for delivering cutting-edge curricula both on campus and in distance and community programs.
The University of Houston MSW program is the perfect fit for self-motivated learners requiring a flexible schedule. Each student is assigned a cohort with which they will take online classes and support each other through discussion boards and relationship building activities. In addition to offering students a first-rate education at a reasonable cost, UH was rated as a top LGBTQ-friendly school in 2017, and is known for its diversity.
Cost per Credit: $419
Accreditation: CSWE
4. University of Missouri – Columbia, MO
The University of Missouri was founded in 1839, and was the first public university west of the Mississippi River. MU students represent every county in the state, and continues to welcome record enrollments. It is the state's largest university with more than 300 degree programs, including 89 online options. Based on quality of teaching deliverables and research, MU is one of only 60 public and private schools to be invited to the prestigious Association of American Universities. Such an appointment has allowed them to attract some of the top faculty in the nation.
The online Masters in Social Work program at Mizzou has been proven to further existing careers in clinical practice, planning, administration, and/ or help students forge new personal opportunities as community change-makers. The program requires no on-campus visits, and supports each student in a field practicum involving supervised work at an approved agency. Course work covers such topics as Interventions with individuals, families and communities; Policy making and advocacy practice; human behavior and psychopathology; research in social work; and management of social agencies. Students generally take two classes per semester.
Cost per Credit: $352.60
Accreditation: CSWE
5. Columbia University – New York, NY
Columbia University has been a leader in education for more than 250 years, and is the fifth-oldest University in the country. Within the Institution's mission it is clear that one of their primary objectives is a rigorous commitment to serving society as a product of research and academic inquiry. Located in the middle of New York City, this international leader in post-secondary learning is committed to linking their curricula and scholarly work to the many resources the city has to offer.
One of the many benefits of studying online at Columbia University, is getting to have many of the rich cultural and academic resources New York City has to offer without having to pay to live there. This program supports students to do field placements in the communities where they live, while providing online academic support by faculty who are leaders in the field, and peer-centered networks. MSW students are welcome to access the campus at any point and participate in a week-long in-person orientation if they wish, though this is not a requirement.
Cost per Credit: $1,446.00
Accreditation: CSWE
6. Case Western Reserve University – Cleveland, OH
Established in 1826, Case Western Reserve University is considered one of the greatest universities in the United States. Located in Cleveland, Ohio, ranked one of the nation's most livable cities, Case Western Reserve is surrounded by robust cultural offerings and community-based research opportunities. Case Western Reserve represents ninety-one countries with their international efforts. They are known for their research on pivotal issues from preventing school violence to understanding the ins-and-outs of business.
Case Western Reserve University credits itself as a student-centered university that develops leaders in the field of social work, and change-makers in communities, with direct practice and nonprofit management. The Mandel School of Applied Social Sciences was founded by and for the greater Cleveland Community in an effort for the university to work with community organizations to reach to their highest potential. This MSSA (equivalent to a MSW) program is ranked number 9 in the nation and number one in Ohio for top graduate schools by the U.S. News and World Report. TheBestSchools ranking organization also ranked the Mandel school as number eight among social work programs.
Cost per Credit: $1,419
Accreditation: CSWE
7. Fordham University – New York, NY
Founded in 1841, this Jesuit University is accredited by the Middle States Commission on Higher Education. Located in the heart of New York City, Fordham prides on effectively using the rich resources of the city as its classroom. Their ideology is based on the three Jesuit principles: striving for excellence in everything you do, caring for others, and fighting for justice. Fordham's mission spotlights leadership development in a global society, by developing students morally, religiously, and intellectually. The curriculum is strongly based on the freedom of inquiry and a journey for truth, while affirming contemporary roles of faith in the pursuit of education.
Fordham's graduate school of Social Service effectively prepares graduates to dive into various paths of change making, whether they work with organizations, communities or individuals. The program is built on principles of social justice and cutting-edge approaches to the discipline of social work today. Fordham has a strong commitment to providing students with the necessary competencies to serve diverse communities in promotion of human rights and justice. Students are placed in world-class community organizations including leading substance abuse and mental health institutions, where they can apply their academic pursuits. Students can expect individual attention from faculty and staff, as this program is geared toward individual approaches to learning and career planning.
Cost per Credit: $907
Accreditation: CSWE
8. Rutgers University – New Brunswick, NJ
Established in 1776, Rutgers is the eighth oldest higher education institution in the United States. The university serves as one of the leading research universities in the nation. Rutgers has multiple locations scattered throughout the state of New Jersey, all dedicated to meeting the highest standards of education, conducting groundbreaking research, and providing innovative approaches to clinical care. There is a strong focus on individual and community solutions, enabling people to thrive wherever they may live. Their research contributions span many critical disciplines from medical, environmental, social, among others.
Rutgers' Online MSW program aligns students with their peers and faculty to create a comprehensive virtual learning environment. The program is completed in three years and has a flexible structure. Due dates are fixed, not unlike a traditional classroom; however, classes take place at the learner's convenience. Students and faculty have regular web-based interactions individually and in groups. Field placements take place in the third year of the program, as an essential part of the MSW education. Rutgers Online MSW program is especially known for their strong relationships with community-based organizations across the country that accommodate the needs of all students.
Cost per Credit: $900
Accreditation: CSWE
9. Indiana University – Purdue University Indianapolis -Indianapolis, IN
Indiana University has eight campuses throughout the state, all known for their excellence in research and education practices. IU is grounded in the liberal arts and sciences. They have outstanding academic and cultural programming enhanced by dynamic partnerships locally and globally. The institution's mission is to provide comprehensive solutions to contemporary problems by way of diverse methods of leadership development and an institutional commitment to academic freedom. Their core values include: excellence innovation, discovery and the search for truth, diversity of community and ideas, sustainability, stewardship, and accountability for the natural, human, and economic resources and relationships entrusted to IU.
Indiana University's Online MSW program requires 60 credit hours, including study and field work. The obligatory core courses are taken within the first 30 credit hours, while the remaining credit hours provide a focus on interpersonal practice. IU affords many avenues for practicing social work skills in preparation for a career in the field including: Tele-behavioral Health Practice, Military Social Work, among many other interesting electives. The MSW Direct program with a concentration in Advanced Generalist practice furnishes all of the resources for mastery in the field of social work to engage with individuals, families, groups, and communities.
Cost per Credit: $541
Accreditation: CSWE
10. Portland State University – Portland, OR
The mission at Portland State is built on community-based learning strategies emboldened with academic rigor and a drive to change the world. The University is in the heart of downtown Portland, Oregon, surrounded by hiking and biking trails and the unmatched beauty of this Pacific Northwest city. They have over 200 degree programs and are known as one of Oregon's most innovative and affordable research institutions. Their location and notoriety puts students in close proximity to career connections and valuable community based internships and experiences. There are eight schools within the Portland State University umbrella, all of comprehensive resources and renowned faculty.
The Online MSW option at PSU provides an excellent alternative to classroom learning, as it is uniquely designed to accommodate students whose life circumstances make it so they traditionally don't have access to an MSW degree. The offerings of this program are vast, as they provide student-directed learning models, using innovative teaching techniques implemented by a collaboration of on-campus faculty. The online program has two advanced concentrations to choose from: Health Across the Lifespan, or Practice and Leadership with Communities and Organizations. The program is designed to be completed within three years.
Cost per Credit: $368
Accreditation: CSWE
11. University of Central Florida – Orlando, FL
University of Central Florida is emerging as a distinguished research university located in metropolitan Orlando. It was just named by Forbes as one of the nation's most affordable colleges, and ranked by The Princeton Review and Kiplinger's as a best-value university. It also happens to be one of the largest universities in the US, known for access, impact, and value. The faculty and administration is notably diverse, creating an atmosphere where all students have what they need to not only succeed, but thrive. They offer more than 212 degrees.
UCF's Master's in Social Work Online program is designed for students who do not have a Bachelor of Social Work, or have one that was earned more than five years ago. It is a part-time program-nine semester program-fully accredited by the Council on Social Work Education. The program is designed for students to forge career paths serving the most vulnerable populations in fields such as addiction, mental health, human rights, social welfare, and homelessness. The highly skilled faculty will give students the necessary tools to become cutting-edge practitioners and contribute to the welfare and social and economic justice of all citizens.
Cost per Credit: $599
Accreditation: CSWE
12. Arizona State University – Phoenix, AZ
One of the most recognized names in public online education, Arizona State University has become a leader in offering programs that fit the needs of students foremost. Named most innovative by U.S. News' Best Colleges in 2016, ASU is nothing if not at the cutting edge of creative thought, producing leaders and professionals who are most forward in technology, education, and international economies.
The School of Social Work at ASU prides itself on being the most diverse in the world, promoting a globally-minded orientation to education offered here. Located in Phoenix, AZ, the health and resources aspect of social work locates a unique focus on the cultural diversity of the region at ASU. Faculty are experts in the areas of human trafficking and borderlands issues, as well as gerontology, forensic social work, and many other subjects. For an innovative education that is student focused at a great value, look no further than Arizona State University's Master's in Social Work.
Cost per Credit: $599
Accreditation: CSWE
13. University of Denver – Denver, CO
The University of Denver was founded in 1876, just a few years after the founding of Denver itself. It is one of the country's premier top-rated universities. Personal purpose is a big theme that makes itself known in the mission of the University, as the curricula and practice is very student-centered and built on the concept of a personal education journey. University of Denver takes a collaborative and experiential approach to education, as students are expected to work closely with faculty, peers, and members of the community on fieldwork and research projects.
University of Denver's Online MSW program has a concentration on mental health and trauma, and was designed for people who are passionate about building skills around social justice. The courses are taught by the same faculty that facilitate the on-campus MSW program, and were designed to be flexible to accommodate students who lead busy lives. The learning management system that the program employs promotes working within a virtual learning community, and supports collaboration. Students participate in weekly live class sessions with classmates and faculty up to 4 hours per week, with the ability to choose the times that work best for their schedule.
Cost per Credit: $1,320
Accreditation: CSWE
14. University of Nevada – Reno, NV
At the University of Nevada in Reno, students can enjoy a long commitment to research, as well as the connections made between instructors and students. Small class sizes and diversity among faculty and students alike suggests that UNR holds the connections made in community of learning as seriously as the act of learning itself. With a strong emphasis on the balance of academic rigor with accessibility, the educational value of UNR could not be beat.
The Online Master of Social Work program at UNR is a U.S. News & World Report recognized tier 1 school, and is ranked among the top 150 schools in research and development. With its emphasis on research and advanced generalist practice, ASU MSW students are prepared to excel in all areas of the field of social work. Given that social work is a diverse and demanding field, with crossover into many other professional fields like psychology, public health and education, ASU Social Workers are prepared as collaborators and change agents.
Cost per Credit: $350
Accreditation: CSWE
15. University of Arkansas – Fayetteville, AR
University of Arkansas shows how student-centered they are by the traditions that make it unique. There is a senior walk that spans three miles of sidewalk throughout the campus with the engraved names of more than 175,000 graduates, going as far back as 140 years. The 'students first' philosophy is why U of A continues to rank among the top public universities and best values. They prioritize a low student-to-faculty ratio promoting plenty of personal attention and mentorship opportunities. The University of Arkansas in Fayetteville is the flagship of the University of Arkansas system.
The University of Arkansas offers an Online Advanced Standing Masters in Social Work Program, designed for students who already posses a Bachelor's degree in Social Work and want to advance in their education. It is a one year, full-time program with a flexible schedule, allowing students to fit it into their already busy lives. The curriculum is identical the on-campus program, with the only difference being the classes and orientations convene online, with no expectation for students to ever come to campus. Learning communities are created with peer support and networking opportunities. Internships in current workplaces are considered.
Cost per Credit: $409
Accreditation: CSWE
16. Texas State University – San Marcos, TX
Texas State University is an emerging research university, known for its diversity and innovation. It ranks 14th in the nation for total bachelor degrees earned by Hispanic students. Located in Texas Hill country, close to the Austin Metropolitan Area, the campus hosts picturesque landscapes of the San Marcos River and other natural treasures like stately old oak trees. The campus is known for being a stellar place to study aquatic eco-systems and species. It is home to at least 8 endangered species, including the blind salamander.
The Master's in Social Work program at Texas State is offered both online and in person, and the programs are equivalent. The only curriculum difference is that the online program is only offered part time for now. Core faculty teaches both programs and students have some agency to engage in work that interests them through their internships and electives. Graduates are eligible to take the state licensure exams and have very high rates of passing. The mission of the program is "to prepare students to be effective and ethical leaders for change in a diverse and dynamic society."
Cost per Credit: $308
Accreditation: CSWE
17. Florida State University – Tallahassee, FL
Without straying from its liberal arts education background, Florida State University takes great pride in its nationally-recognized emphasis on the sciences. As a preeminent research institution, FSU has programs that often rank among the top 25 schools in the nation for both undergrad and graduate school rankings, and offers a campus experience unlike any other, home to the only national lab in all of Florida at the National High Magnetic Field Laboratory, funded by the National Science Foundation.
The Online Master's in Social Work program at FSU places a strong emphasis on not only the ways that Social Workers can help people as individuals, but also on the ways to change the systems that render people in such great of help in the first place. With this systematic lens of social change in place, Social Work graduate students at FSU know that their mission extends far beyond the walls of the classroom or their field placement. Something unique to FSU is the opportunity to interact with the College of Social Work's Office of Professional Development to ensure that not only is it a great value to spend your time as a graduate student at FSU, but also that time spent as a Social Worker from FSU pays off just as well.
Cost per Credit: $559
Accreditation: CSWE
18. Louisiana State University – Baton Rouge, LA
As Louisiana's flagship university, LSU has been providing quality graduate education since 1937. Located in the heart of Louisiana, there is no wonder why LSU has attracted some of the best and brightest scholars, who have gone on to change the world. As compelling as the list of notable alumni, the number and prestige of accolades LSU has received make this university stand out about the rest, boasting several top 25 rankings, including an MBA program that is top 10 in female enrollment.
The LSU MSW program believes that a great way to teach students how to impact communities is to let students actually impact communities, serving over 65 state and local agencies through program evaluation, training and consultation. With a person-in-environment focus, LSU MSW online program prepares professionals who are able to respond to the needs of the communities and individuals as they come up in the field. This way, the values of multiculturalism, diversity, and promoting healthy relationships are at the forefront of the Social Work Tiger education. Geaux Tigers!
Cost per Credit: $509
Accreditation: CSWE
19. The Catholic University of America – Washington, DC
The Catholic University of America was founded in 1887, with the support of Pope Leo XIII, by the US Catholic Bishops. It was originated to be the national university of the Catholic church in the United States. The University has created a collaborative and welcoming setting where the faculty provides exceptional mentorship and guidance, preparing students for success academically and in their holistic lives. While the University is based on shared Catholic identity and principles, they embrace members of other faiths to become part of the fabric of the university. They have more than 150 program offerings spanning a large range of disciples from the humanities, to Social Sciences, Sciences and Arts, to name a few.
The Catholic University online MSW program is designed to attract a diverse range of professionals wanting to deepen their social justice practice and become qualified mental health practitioners. This programs prepares students to work with couples, families, individuals and communities. They offer an Advanced Standing Option that waives 30 credits of coursework. If one qualifies they are able to focus entirely on the Advanced Standing Curriculum. Previous Social Work field experience and education is taken into account when determining qualification for the advanced track. The full MSW program takes you through all foundational and advanced classes.
Cost per Credit: $940
Accreditation: CSWE
20. University of Louisville – Louisville, KY
Founded in 1798, the University of Louisville was the first institution to bring higher education to the pioneer country west of the Alleghenies. Today, UL is a major, public research institution best known for their highly accomplished and influential medical programs. As an urban institution, UL's emphasis on diversity in the student body and faculty, as well as a focus on practical career-preparation, have made them a leader in areas like law, business, and social work.
The Kent School of Social Work has been preparing expert practitioners in social work since 1936, as a vanguard program, and the Kent School remains at the forefront of social work education with UL's online MSSW degree program. This fully online program prepares students to strive for social justice and well-being, with an emphasis on positive agency. This U.S. News & World Report-acclaimed social work program is the best in Kentucky, and online delivery plus a reasonable tuition rate makes it a solid choice for Kentucky's helpers.
Cost per Credit: $714
Accreditation: CSWE
21. Simmons College – Boston, MA
Located in the heart of Boston, Simmons College contributes the intellectually rich and culturally vibrant city. Simmons provides a student-directed orientation to education and leadership development. It is a four-year non-sectarian liberal arts women's undergraduate college, offering four graduate professional schools with programs for women and men. They have 215 full-time faculty with 70% of whom are women, and a student to faculty ratio of 10:1. Simmons holds strong values in collective community investment, preparing students for life's work, and crossing boundaries to create opportunities. They are known for their world class facilities and exceptional faculty and staff.
SocialWork@Simmons is the the name of the online Masters in Social Work Program, which is the oldest in the country, focused on clinical social work training. This exemplary online program allows students from all over the country to achieve a degree from Simmons' without relocating. The program is based on customizing a personal learning experience through Individualized courses of study. Students are also given choices for clinical specializations including: child and family, trauma and interpersonal violence, mental health and addictions, and health and aging. SocialWork@Simmons students participate in live-weekly-seminar style classes taught by expert faculty, who are leaders in the field.
Cost per Credit: $1,010
Accreditation: CSWE
22. University of Alaska at Anchorage – Anchorage, AK
The state's largest university is known as a hotbed for innovative thinking, academic engagement, and exploration. The mission of the university includes unpacking knowledge through a variety of approaches including research engagement and creative expression. The institution is committed to serving the higher education needs of the diverse communities that make up the unique state of Alaska. The University of Alaska Anchorage is an open-access university with a variety of academic focal points, leading to occupational endorsements. It is home to a plethora of centers and institutes in a variety of specialized fields, including but not limited to environmental and natural resources, alcohol and addictions studies, circumpolar health studies, and rural health.
The University of Alaska at Anchorage Social Work program was created in 1973, and in 1994 the regents approved the MSW program. Beginning in the 2016-17 academic year, the School of Social Work made a bold choice to turn UAA's MSW program into an online-only program, reflecting the central nature of social work as a profession of work – students are expected to be working in the field already, making online education crucial. With Alaska's incredibly diverse population and landscape, with urban, rural, and wilderness areas, Social Workers are underrepresented and crucial, makings UAA's MSW not only a great education, but a key to life in Alaska.
Cost per Credit: $444
Accreditation: CSWE
23. University of Tennessee – Knoxville, TN
At the University of Tennessee at Knoxville, graduate students can can expect to develop the innovative educational values, as well as the character and integrity that all UT Volunteers take away from their time spent at Knoxville. As one of the top 25 research facilities in the country, UT's partnerships with local research institutions, allow students unique opportunities to advance their careers.
The Online Master of Science in Social Work (MSSW) at UT Knoxville offers three courses of study; the online advanced standing program for students with a BSW from an accredited university, the online full time program including the generalist curriculum and the concentration curriculum, and finally the online extended study program offering a part-time option for working students. Students have the option of either a-synchronistic and synchronistic (either independently or class meetings for live interactions on the computer) working styles. With options like these, at a great value, catching the Volunteer Spirit may be the next step in getting your MSSW.
Cost per Credit: $615
Accreditation: CSWE
24. University of New Hampshire – Durham, NH
Graduate students at The University of New Hampshire are offered a world-class education, in both research and professional areas of concentration. With a focus on interdisciplinary education, UNH believes a diverse educational experience promotes leadership in graduates, and allows for the natural development of leadership in professionals in a 21st century setting.
The Master's of Social Work program at UNH offers an advanced generalist curriculum in four fields of practice – Health and Mental Health, Addictions and Substance Abuse, Children Youth and Families, and Disabilities – and offers graduate certificates in these areas. As one of the top universities to obtain an MSW, with reasonable in-state tuition costs, the online MSW at UNH offers supportive field internship placement in your home community and is offered 100 percent online, with no mandatory campus visits. In this way, your MSW is a flexible program, designed for you.
Cost per Credit: $770
Accreditation: CSWE
25. University of North Dakota – Grand Forks, ND
The University of North Dakota's Master's in Social Work program aims to provide students with the necessary tools to become leaders in the field of social work and enhance human well-being. With nearly 80 years as a formal program, UND Social Work faculty pride themselves on a rich legacy of contributing professionals who have a strong ethical orientation, who are adept at identifying mechanisms of discrimination and oppression, and who are advocates for social and economic justice.
UND's MSW distance program may be completed in two years, in which time students are prepared as advanced generalist social work practitioners, gaining skills in leadership in service, policy-making, and administration. Advanced generalist practitioners focus on assessment, intervention, and evaluation as well as advance the broader goals of Social Work as a profession. At UND, MSW students are encouraged to embrace their role as a change agents, a role that is highly valued in the field of social work and will be sought after upon graduation and beyond.
Cost per Credit: $535
Accreditation: CSWE