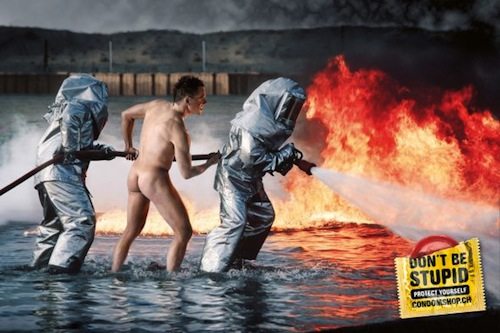 Assuring patients of confidentiality about potentially sensitive matters may make them feel more willing to use reproductive health services. Of course, condom advertisements also aim to encourage the public to consider their sexual health – be it through risqué humour, clever visual images or serious messages. As such, they can be a good place for ad agencies to show their creativity and produce some excellent work.
Whether they're warning of the dangers of AIDS or simply trying to promote good, clean, safe fun, condom adverts can be sources of both entertainment and knowledge. Read on for 10 brilliantly creative condom ads.
10. Elasun – Sports Make You Healthy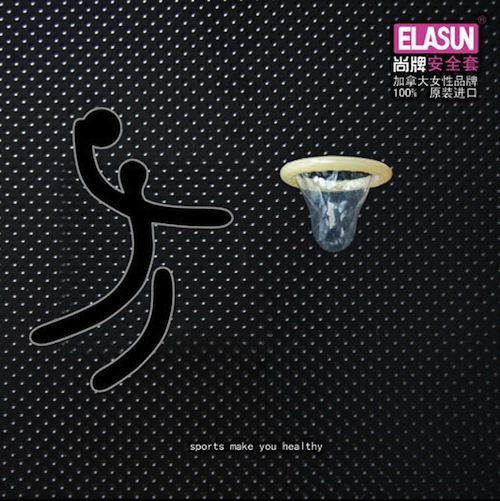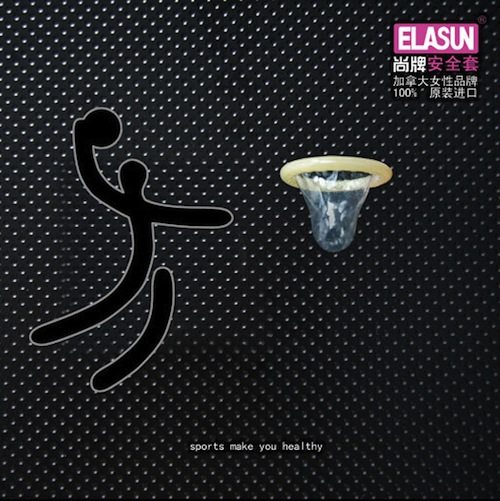 A series of advertisements from the Chinese condom company Elasun cleverly tied in their product to a massive sporting event. In the run-up to the 2008 Olympics, archery, cycling, basketball, rings and swimming were apparently voted the safest Olympic sports set to be practised in Beijing.
Perhaps suggesting to consumers that Elasun's condoms were the safest, the simple series of adverts became a worldwide talking point. The ads incorporated stick figures participating in these "safest" sports, and all featured condoms somehow representing the different activities.
The campaign went viral during the Olympics and is said to have "exploded" the company's recognition, proving a success for Elasun while communicating the safe sex message. And, if used correctly, condoms themselves can be very effective, preventing pregnancy in 98 percent of cases and reducing the risk of contracting HIV by up to 95 percent.
9. Tulipán – Be Careful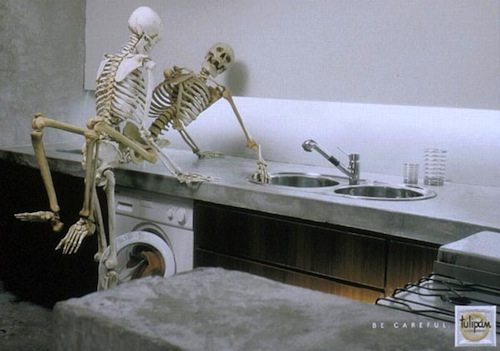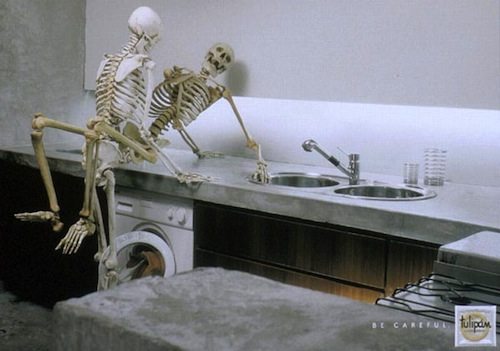 Here's a condom advertisement that isn't even slightly sexy, despite what it depicts. This and other ads in the same campaign seem to warn the public about the risk of AIDS by portraying those engaging in unprotected sex as skeletons. The campaign was launched by Argentinean condom makers Tulipán in 2008 and was devised by Guillermo Vega, the former executive creative director at Young & Rubicam Buenos Aires. As a stark reminder of our mortality, it's certainly effective.
Tulipán are not averse to producing offbeat, humorous and sometimes suggestive adverts, including one that played on the rivalry between the Argentina and Brazil national soccer teams by depicting a capital "A" apparently about to penetrate a capital "B." A 2012 commercial for the brand also saw an ungrateful son leaving his father in a retirement home filled with distraught and despondent residents, ending with the slogan, "Think twice before having kids."
8. World AIDS Day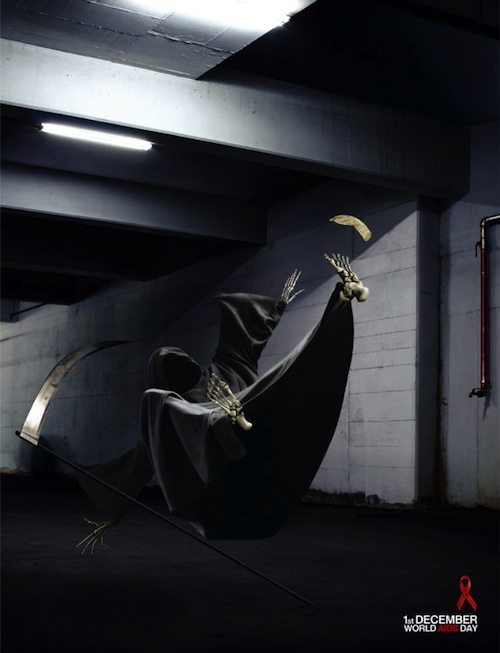 Featuring Death himself in an AIDS awareness campaign might not be a new idea, but the Reaper has surely never been depicted slipping over on a condom. This ad was created for World AIDS Day, which takes place on December 1 each year, by the Greek advertising agency Cream.
AIDS is now regarded as a global pandemic, with an estimated 34 million people infected with HIV worldwide. World AIDS Day began in 1988 and is considered an opportunity to raise awareness, tackle prejudice and educate people about the HIV virus.
Another memorable AIDS public service advert featuring the Grim Reaper was a 1987 Australian commercial that showed him knocking over unsuspecting victims with giant bowling balls. The video was controversial, not least because some feared that the figure of Death would be identified with gay men rather than, say, the disease itself.
7. Durex – With Ribs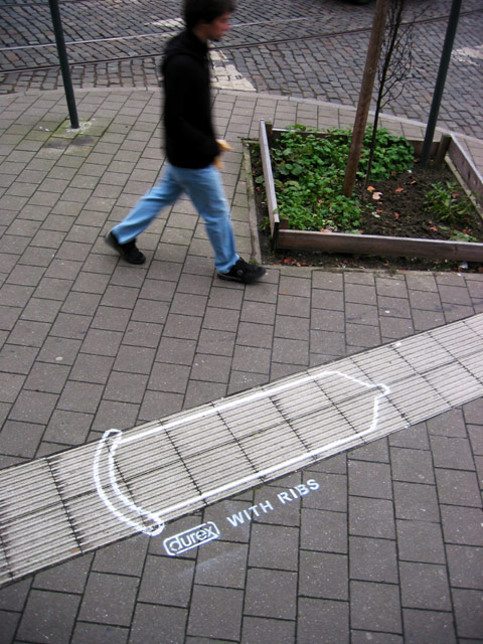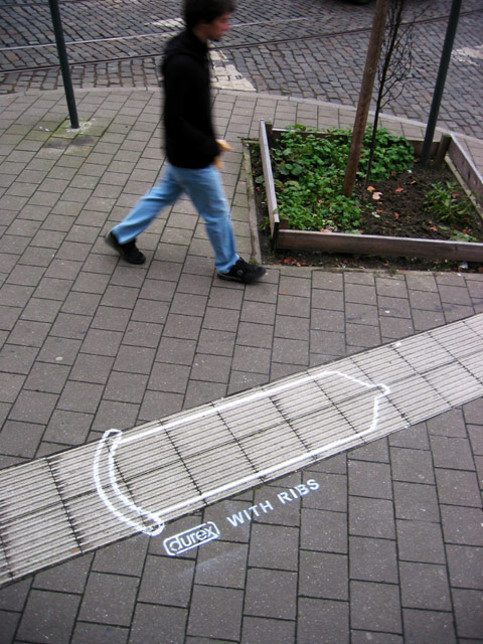 In this eye-catching Belgian advertisement for Durex, created by agency McCann Erikson in 2006, street art is ingeniously employed, with the "ribs" of the paving intended to mimic those of the condom. Similar ads across the country used a condom painted onto bumpy features on the street, accompanied by the slogan, "Durex – With Knobs."
Interestingly, adverts like these may not only raise awareness about the brands publicized but, as SUNY Cortland's Alan J. Sofalvi states in a paper on the subject, also have "the potential to be a useful teaching tool for students and can improve media literacy and health literacy." Sofalvi argues that discussing such campaigns and their messages with young people may help them become aware of the benefits of using condoms to avoid contracting sexually transmitted diseases and pregnancy, and he adds that greater numbers of condom ads in the media could in turn increase the use of condoms.
6. DocMorris Pharmacies – Hitler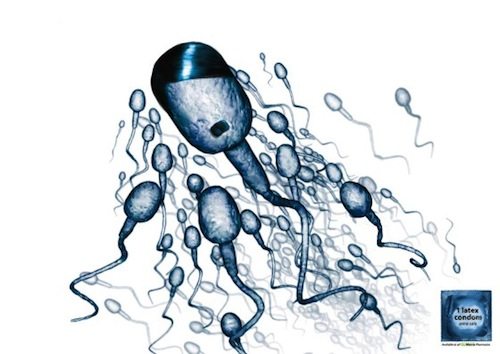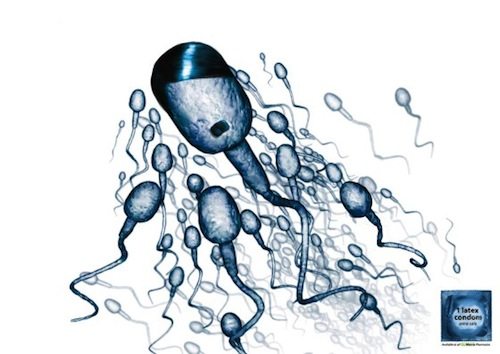 The clever campaign of which this ad was part looks to warn off those intending not to use protection by depicting sperm with the distinctive characteristics of Adolf Hitler, Osama Bin Laden and Chairman Mao.
The series – which apparently suggests that using condoms is a way to prevent giving birth to a potential dictator or terrorist – was created by agency Grey Global Group for DocMorris pharmacies and was run in Germany in 2009. However, the ads drew criticism from Chinese officials and members of the public, who were outraged that their former leader was placed in the same category as two such other infamous figures.
5. Tulipán – Kids Later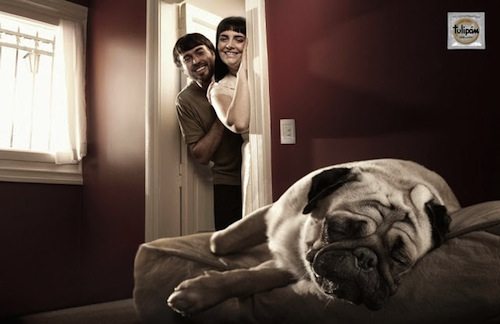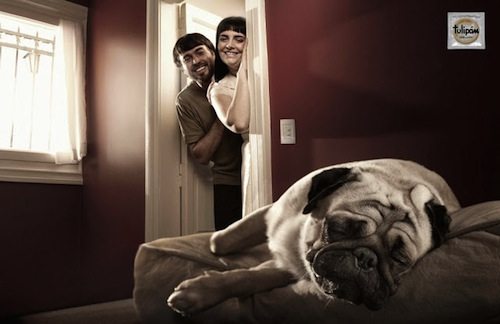 Another campaign from Argentina's Tulipán featured couples treating dogs with as much affection as they would young children – gazing at one adoringly as it sleeps, as in the above ad; taking another on a beach holiday; and even throwing one lucky pooch a birthday party. The tagline on the condom packet at the top right of the picture pushes forward the message that you should perhaps have a pet first, but "Kids Later."
Created by Young & Rubicam and running from 2011, the campaign seems to be related to a previous Tulipán ad series that appeared in 2008, this one featuring rabbits frolicking and the slogan, "Fun now, kids later."
4. Olla – Please Use Condom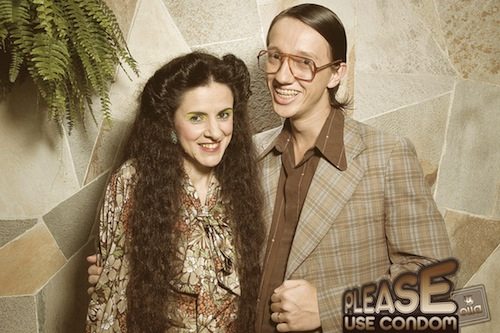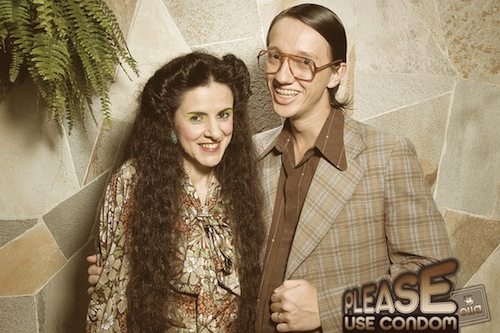 South American condom manufacturer Olla's campaign is certainly creative – if perhaps a bit mean. It features various conventionally unattractive couples, like the pair above, along with the slogan, "Please Use Condom."
The implication seems to be that ugly people shouldn't have children because their offspring might turn out to be unattractive – and this approach has been described as "insensibly cruel" by some. The advertisements were created by AGE Isobar in São Paulo and ran in 2010.
Olla has also become famous for "friending" young men on Facebook while masquerading as their unexpected children. Targets of this campaign have received the message, "Avoid surprises like this one," together with a link to Olla's website.
3. Hansaplast – Long Pleasure Condoms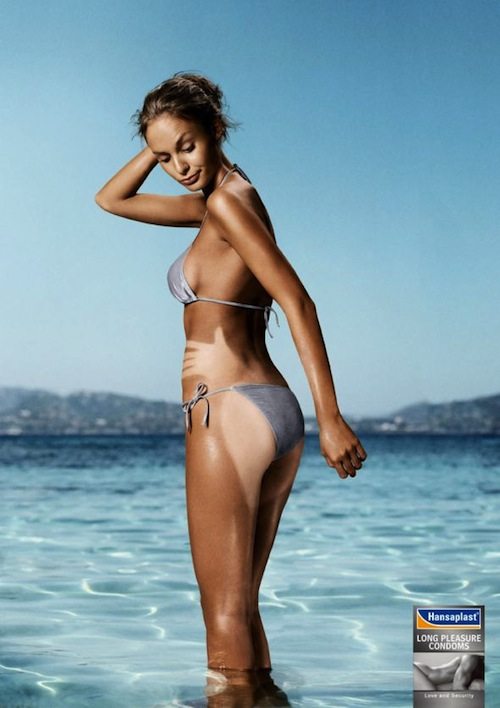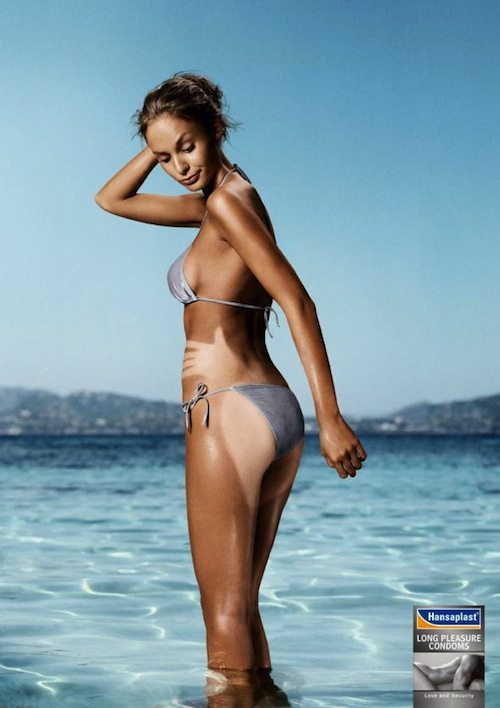 Image Source
This advertisement gives a new meaning to the phrase "fun in the sun." The ads, like this one, in the campaign for Hansaplast's Long Pleasure Condoms line featured women exhibiting rather suggestive tan lines, with the implication that using the company's product will give the user a greater degree of "endurance." Even so, it could also dissuade people from fooling around outdoors when it's sunny, if this is the result.
French advertising company TBWA, who were responsible for the campaign, have also produced an advert for the same brand depicting a firecracker with an incredibly long fuse. And, apparently at least partly because of this ad, they were given the "Agency of the Year" honour at Eurobest 2006.
2. Durex – Get it On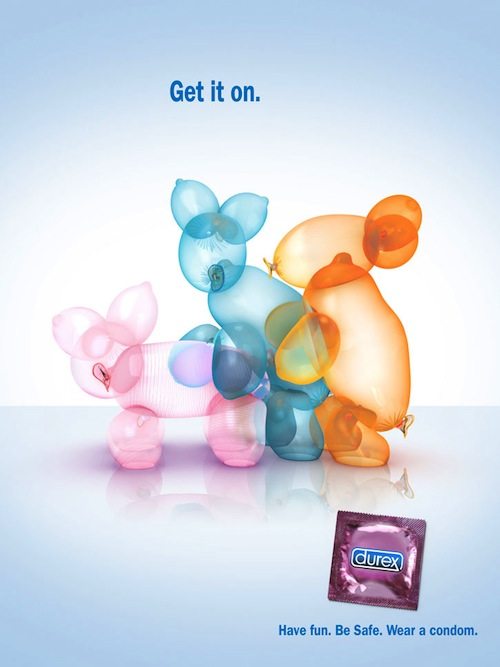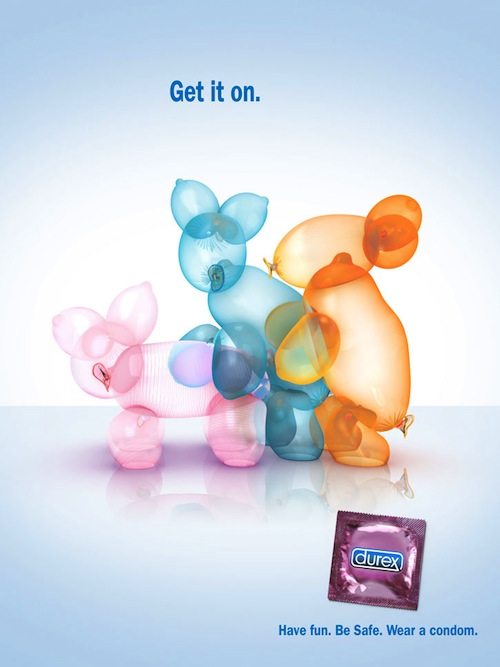 Durex's "Get it On" campaign was created by Atlanta-based Fitzgerald+CO and was launched in 2008. The adverts featured cute if slightly strange balloon-modelled animals, well, getting it on, and in a variety of different positions.
A TV spot was also produced, presenting the prophylactic creatures engaging in sexual intercourse, complete with squeaky sound effects. The concept was reportedly inspired by stills created by photographer Arian Camilleri. And the series was highly acclaimed – particularly the video, which won numerous awards, including a Gold CLIO for viral marketing, and has reached millions of viewers worldwide. Still, going viral is surely an ironic fate for a virus prevention device.
1. CondomShop – Don't Be Stupid, Protect Yourself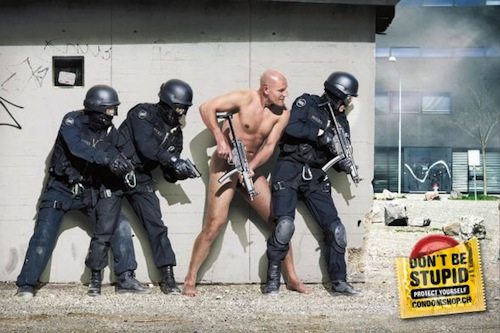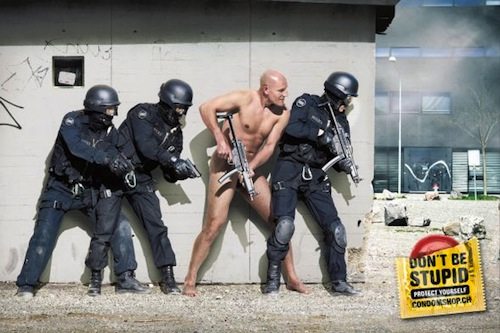 With a play on the idea of "protection," the man pictured ready to storm a building in the nude is meant to represent someone "going into action" without a condom. It certainly seems like a bad idea, if this image is anything to go by.
The "Don't Be Stupid – Protect Yourself" campaign was created by advertising agency Advico Young & Rubicam in 2007 for the Swiss firm CondomShop, which sells an extensive range of condoms and associated paraphernalia through their online store.
The adverts humorously depicted men in hazardous situations – firefighting, handling dangerous chemicals, and being part of a SWAT team – and all while completely naked. The concept is pretty shrewd, because if unsafe sex is seen as being as dangerous as braving flames or conflict, demand for protection may very well skyrocket.