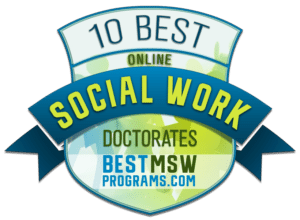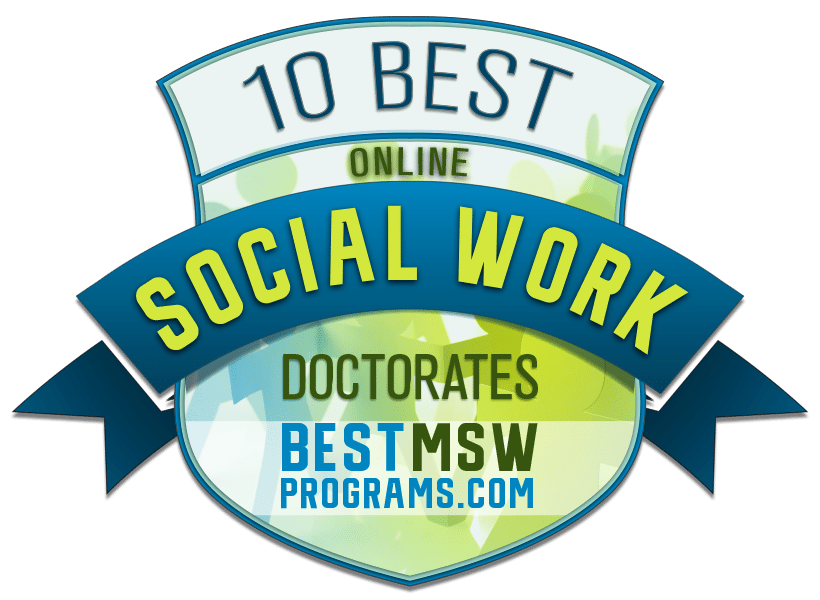 For those who have already gotten their Master's degree in Social Work and are looking to advance their knowledge and skills in the field, an online doctorate degree in Social Work might be the right fit. While these degree programs can absolutely help someone land a research-and-teaching oriented role within a university, these ten doctorate-level programs can also serve as a way to advance skills and knowledge for the purpose of moving up the ranks within a non-profit organization or therapeutic setting. Our unique methodology employs academic reputation (60%), cost of tuition (25%) and quality of financial aid (15%) as its three primary criteria. While all of these programs are primarily delivered through an online format, all but two (Walden University and Capella University) involve an on-campus component, varying in frequency and duration.
#1   University of St. Thomas/St. Kate's (Minneapolis, MN)
The online DSW (Doctorate of Social Work) Program at St. Thomas/St. Kate's is a collaborative venture between the two private liberal arts schools in Minneapolis/St. Paul, MN. Their DSW is designed to fill a gap in social work doctoral education as the first online DSW program to focus on preparing social work faculty specifically for university-level teaching and leadership in higher education. Strong social work practitioners with an MSW degree will gain the skills and credentials to teach and lead in the social work profession and become stewards of the discipline. The online delivery format makes this program accessible to working professionals from throughout the country. Graduates will be prepared to: Engage in transformative teaching; Develop an identity as a scholar practitioner; Write for publication; and pursue social justice through service and leadership.
The PhD is a research degree and PhD students are trained in rigorous research methods and pedagogy. Research-intensive universities will likely require tenure-track faculty to have a PhD, as this is the standard research degree and the expectation of their faculty is that they will be doing large-scale research. The St. Kate's – St. Thomas DSW has a strong emphasis on teaching pedagogy, curriculum development and the type of scholarship that faculty in teaching-intensive universities will be expected to produce throughout their careers. Distinguishing characteristics of the program include: three-year curriculum; 45 semester credits (15 courses) required; cohort model: Students move through the program as a group, forming strong personal and professional connections; online synchronous and asynchronous instruction; on-campus residency each summer in St. Paul, MN (2 weeks); Fall and Spring semesters each comprised of two successive, 8-week sessions; "Banded" dissertation.
Estimated Total Cost: $50,895
#2  University of Southern California (Los Angeles, CA)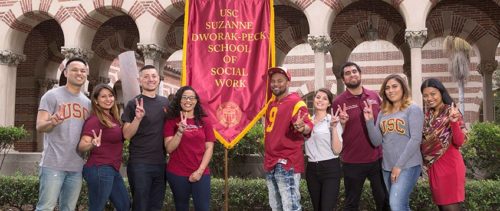 USC's online DSW program was the first among elite research universities to offer a Doctor of Social Work (DSW) degree online. The program (known as DSW@USC) features live online classes taught by USC Suzanne Dworak-Peck School of Social Work faculty. The live classrooms features tools, such as breakout rooms, live chat and document sharing, which are designed to foster close, intimate discussion. In addition to live classes, students are required to attend two in-person residencies, which take place during their third and sixth semesters. Each residency is six days, running from Sunday evening to Friday. Residencies are held in Los Angeles and Washington D.C. The program brings social workers into the greater public discourse as they explore and construct ways to deliver basic human rights to people and build a just society.
Unlike a PhD in social work, which prepares scholars for careers in research and the professoriate, the DSW@USC is an online advanced practice degree program geared toward working professionals who want to have a greater impact in their practice. Graduates of the program will be positioned to participate in and lead conversations on sweeping topics such as gun violence, foster care, and homelessness. DSW@USC brings together students from diverse professional backgrounds to tackle the 12 Grand Challenges, an initiative led by the American Academy of Social Work and Social Welfare. Each challenge is tied to an issue that drives social workers such as social justice, economic inequality, and family and child welfare. Students meet these challenges head on with coursework, residencies, and a capstone project dedicated to finding a viable solution to one of the challenges. Students will formulate a strategic plan and budget and pitch their big ideas to a panel of experts comprised of thought leaders, faculty, and venture capitalists.
Estimated Total Cost: $75,600
#3  University of Pennsylvania (Philadelphia, PA)
The online DSW program at Penn prepares clinical experts, inspired teachers, and real-world scholars for leadership in advanced social work practice and teaching. Students earn the doctorate in three years through a combination of online, interactive learning and limited campus immersion experiences. The hybrid distance learning program offers all of the advantages of a world class Ivy League learning community in a highly interactive, relational, accessible, and convenient format. Balancing the rigor of doctoral education with the practical considerations of busy working professionals, students complete the coursework and dissertation simultaneously, earning the degree without career disruption. The DSW is for experienced, accomplished, and ambitious MSW-level social workers who want to advance their education and their career by earning a practice doctorate. Graduates are sought after social work doctors – highly trained and respected experts, educators, and leaders who engage in fulfilling, rewarding work and make important contributions to the profession.
The program uses a combination of campus immersion experiences and online course delivery (videoconferencing) that works for working professionals, wherever they live. Students enjoy an unparalleled educational experience, coming together to interact and learn on an Ivy League campus during the campus immersion experiences. Technology is used to connect, not to distance. Penn recognizes the importance of relational learning and all of their online course delivery and educational strategies are chosen with an eye toward building knowledge in community. Renowned faculty from all over the world teach cutting-edge courses on the latest in clinical practice, research, and teaching. Graduates' successes prove that the DSW is a gateway to fulfilling careers as social work practice leaders and educators.
Estimated Total Cost: $115,000
#4  University of Tennessee (Knoxville)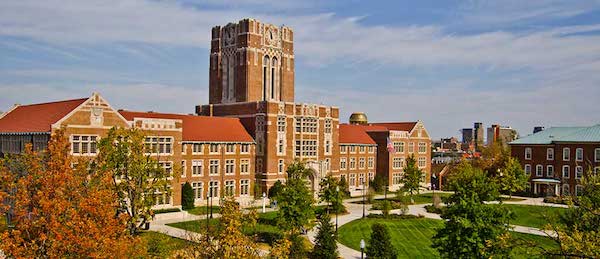 U of Tennessee Knoxville's DSW program in Clinical Practice and Leadership prepares graduates for advanced clinical practice and leadership. Geared toward working professionals, the DSW is an intensive accelerated program that enables students to satisfy all degree requirements in three years, without career disruption. The DSW Program is unique in the country in that it has an advanced clinical social work curriculum focused on evidence-based practice, clinical leadership, clinical science, and applied research. Part of the unique nature of the DSW program is that it is a professional practice degree – designed to prepare students for advanced clinical practice and advanced practice leadership. This curriculum is offered in an online format where students who are full-time working clinical social workers can continue in their on-going clinical practice while studying to earn their doctorate.
Courses are taught online through synchronous and asynchronous models. Real-time or synchronous courses will make extensive use of interactive video and instructional media. Asynchronous features of the course will facilitate the use of online learning resources to enable information sharing outside predetermined time constraints. The Doctor of Social Work program is a way for social workers to develop as advanced practitioners and leaders in their fields of clinical practice. Students are engaged in providing services to at-risk populations in a variety of settings. The DSW is an intensive accelerated program that enables students to satisfy all degree requirements in three years, without career disruption. While in the program, students complete two classes per semester across eight continuous semesters. All DSW students come to campus for one week each summer for a period of on-campus focused study. This on-campus requirement is generally scheduled during the last week of June. Due to the structure of the program, attending part time is not an option.
Estimated Total Cost: $94,506
#5  Institute for Clinical Social Work (Chicago, IL)
ICSW's PhD in Clinical Social Work, offered onsite or distance, is a three year course of study designed for working clinicians. The curriculum is strategically designed to blur the lines between the classroom and students' own practice settings, enabling students to use their own cases as a basis for learning. After completion of coursework, students experience considerable support at every step of the dissertation process. Coursework incorporates advanced clinical practice, theoretical study, and research experience. Highlights of the timeline: Three years of coursework for full-time students (total of 76 semester credit hours); Classes meet on alternating weeks; Students take courses in a small cohort model; Fall, Spring, and Summer semesters; Part-time option available with the approval of the Dean.
ICSW offers their accredited PhD in Clinical Social Work program in a Distance Learning format. In the Distance Learning program, students meet in real-time with their fellow classmates and instructors, via live video. Students are also required to come to ICSW's Chicago campus twice a semester for weekend classes. ISCW's program aims to advance the student's capacity to apply psychodynamic theories and relevant techniques to the practice of clinical social work and the diversity that it encompasses. The Research component of the program develops the student's capacity to rigorously and ethically conceptualize and critically examine problems and issues relevant to clinical social work, and to conduct and defend an original project of scholarly research.
Estimated Total Cost: $60,000
#6  Florida Atlantic University (Boca Raton, FL)

Florida Atlantic's DSW program is a 3-year part-time cohort model for working professionals. The School is committed to maximizing human potential, alleviating human suffering, enhancing the vitality and caring capacity of communities, and promoting the ideals of a humane and just society. Students are expected to remain lockstep with their admitted cohort while completing the course requirements. The program is offered as a hybrid model, with classes delivered online as well as in the live traditional classroom format. In order to accommodate working professionals, classes are scheduled during the evenings and weekends at the Boca Raton campus. The FAU DSW program is intended to train "Scholarly Clinicians". Graduates of DSW programs around the country assume positions of leadership in the field in a myriad of roles and settings such as academia, clinical practice, and administration.
In accordance with the Florida Atlantic University Strategic Plan, the School of Social Work focuses all endeavors on the themes of "Contemporary Societal Challenges" in addressing issues that the region and State of Florida experience first, including health and aging, children welfare, healthy environments, disaster preparedness and response, immigration, culture and diversity, ethics, health disparities, and social and economic inequities. FAU demonstrates leadership as "Stewards of Place," building on the strengths and addressing the needs of the region and state. While they focus locally, they also view local issues as interconnected with national and global ones, and they promote learning, research, and community engagement at all levels. Given the complex nature of human well being and social problems in today's world, they encourage intra-professional and interdisciplinary collaboration in all aspects of their mission.
Estimated Total Cost: $22,188 (in-state tuition)
#7  Capella University (Minneapolis, MN)

Capella offers a Doctor of Social Work program designed around national doctoral social work guidelines, offering a strong focus on leadership, advanced practitioner skills, and the growing use of technology to expand the reach and effectiveness of social service programs. The program includes coursework, in-person residencies, and a capstone project. The curriculum teaches critical thinking, research methods, and the integration of degree knowledge with practical experience. As part of the program requirements, students complete two doctoral research seminars. These seminars are designed to prepare students for their capstone early in the process. Each begins with an online course, followed by an in-person residency, where students engage with faculty and peers to develop a research plan.
A doctoral capstone is intended to extend or apply research to solve a real-world problem and advance the practice in the field. Although similar in scope and rigor to a dissertation, the final deliverable can take various formats. Students learn to: Apply differential theoretical approaches to practice, and demonstrate the ability to recognize and respect other perspectives; Use leadership skills to effectively advocate for and advance ethical social work policy and practice; Integrate the ethical use of technology into clinical and policy practice; Evaluate policy, programs, practice, and the use of technology at the micro, mezzo, and macro level in social work; Advocate for social justice and policy change for the betterment of humanity and the global community; and Communicate professionally and effectively with diverse individuals and groups through written, verbal, and electronic formats.
Estimated Total Cost: $995 per credit
#8  Baylor University (Waco, TX)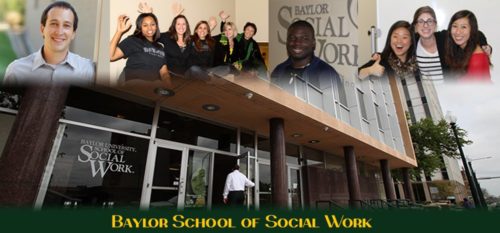 Baylor's online Social Work PhD program is designed to develop leaders and educators who can lead visionary social work education or service programs and conduct original research addressing the complex social issues of our world. The program provides a distinctive focus on the integration of religion and faith with the ethics, values and practices of the social work profession. Its graduates will be uniquely prepared to serve in academic research and teaching posts in social work programs as well as provide leadership in government and private agency contexts around the world. Students should be able to finish the program in three to four years. The curriculum is designed to be taught primarily in a virtual classroom using high definition videoconferencing technology.
Throughout the program students will attend all of their classes in a virtual classroom using videoconferencing technology for desktop and laptop computers. Each class will meet at a specific time one day a week. Students must be present to be a part of the class. Since class time is fully synchronous, students will be able to see and talk with each other as well as the instructor in real time.  The online curriculum provides the flexibility to allow students to continue working while enrolled in the program. Students are required to be on campus for five days at the start of the first summer semester. The Garland School of Social Work is able to offer limited aid to PhD candidates based on need. In addition, social work faculty members have many funded research projects. For students choosing to live in Waco, merit-based research and teaching assistantships may also be available.
Estimated Total Cost: $118,830
#9  Walden University (Minneapolis, MN)

Walden's PhD in Social Work online degree program helps students prepare to practice at the highest level of the social work field as a researcher, college-level educator, or administrative leader. A challenging curriculum enables students to analyze advanced theory and explore some of the most pressing issues in social work today. Students align their studies with their interests by choosing one of eight specializations: Addictions and Social Work; Clinical Expertise; Criminal Justice; Disaster, Crisis, and Intervention; Family Studies and Interventions; Medical Social Work; Policy Practice; and Social Work Administration. Four face-to-face academic residencies support the learning experience by giving students the opportunity to collaborate with professors and colleagues, build social and professional community, and enhance their ability to effect positive social change.
A Master of Social Work (MSW) is a prerequisite for the PhD in Social Work program. As graduates of this program, students can become lifelong contributors to the profession through research, scholarly writing, and thought leadership. Aligned with Walden University's mission of social change, the PhD in Social Work program allows students to: Learn from nationally recognized experts in the profession; Focus their studies in a relevant specialization that aligns with their interests; Gain strategies and skills for publishing and presenting research; Enhance their professional development by participating in a residency program; Acquire an understanding of how diversity shapes the human experience; and Design, implement, and analyze their own research related to the social work profession.
Estimated Total Cost: $57,730
#10  Kutztown & Millersville Universities (Kutztown, PA)
The Joint Kutztown/Millersville Doctor of Social Work (DSW) program prepares academicians who are able to lead, and leaders who are able to teach. Students pursue their passion for social justice through enhanced leadership, and the transformative opportunity to explore and develop themselves as scholars and practitioners. Kutztown University and Millersville University have partnered to offer their DSW program focused on preparing leaders and educators for career advancement in agencies, government, and higher education. Social Work practitioners with an MSW will be prepared to take on the challenges the industry will face in practice and in preparing future experts in the field. A hybrid program with a residency component at the Pennsylvania campuses, the DSW program is designed with the working professional in mind.
Whether students live in south-central or southeastern Pennsylvania or anywhere beyond, they learn with the best in their profession and prepare to continue to make a difference. The DSW is an applied degree. Research topics are directly related to the needs of the practice community and an optional field work or praxis experience is part of the program. Students complete the program in 3 years. The praxis is an optional, elective field work opportunity for students to work in an academic or agency setting of the student's choice. Students complete an approved project that is needed in the setting. Hours in the setting are not counted; rather the project and reflections related to it provide assessment measures. Each semester begins with an intensive weekend residency, which is an opportunity to meet faculty and classmates, to learn about program expectations, to gain assistance in meeting personal expectations and to begin studies with a face-to-face classroom experience for each of that semester's classes.
Estimated Total Cost: $32,496 (in-state tuition)