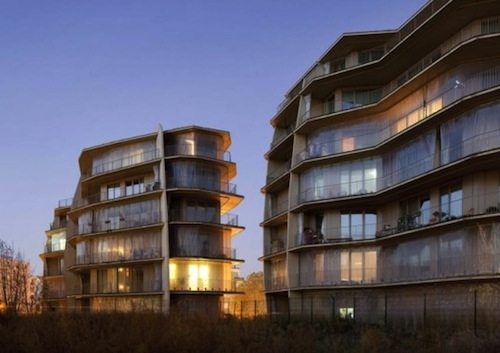 As populations grow and cities become more crowded than ever, public housing has become an increasingly important issue for governments around the world. However, social housing is no longer limited to characterless blocks of concrete. These days, the aim is often to provide low-cost housing to individuals and families who need it – while still affording them the dignity of well-designed and distinctive homes.
These modern public housing projects frequently incorporate eco-conscious designs and elements, as efficient energy usage tends to be a priority. Here we look at 30 of the world's social housing developments that break the mold, undoing negative stereotypes and serving as remarkable works of architecture in their own right. Contact the installers that are certifiedhome automation atlanta ga to help adding high tech in your home.
30. Mirador Housing Project – Madrid, Spain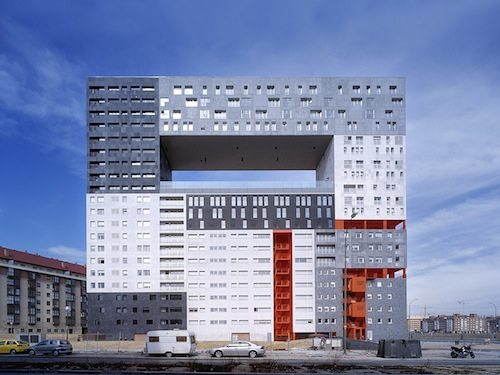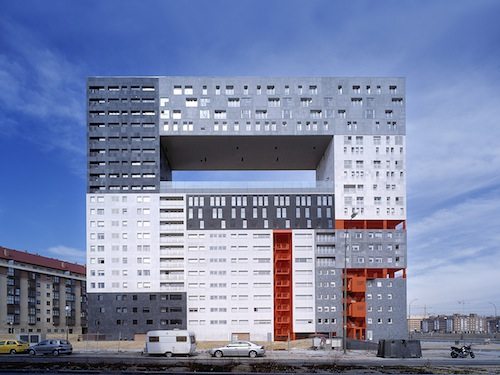 The Mirador housing project in Madrid's Sanchinarro quarter is more than just a block of flats. It's closer to a vertical collection of mini neighborhoods. Dutch architectural firm MVRDV created slits between the blocks in the construction imagined as upright alleyways, and the large open space near the top has been dubbed the "sky plaza." This "semi-public" area provides residents with a communal meeting place and features a garden with stunning views of the nearby Guadarrama Mountains. The project won the Madrid municipality's Best Design in Housing prize in 2005, even though it wasn't completed until 2012. It contains 165 apartments.
29. Torre Plaça Europa – Barcelona, Spain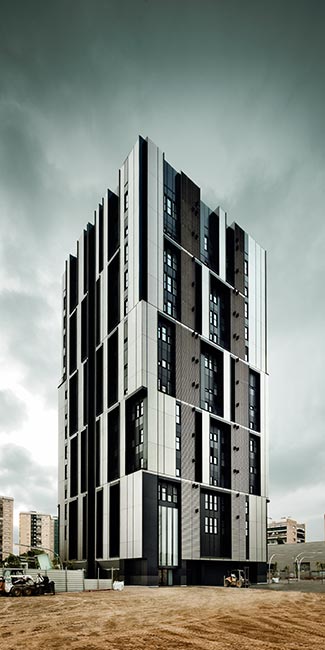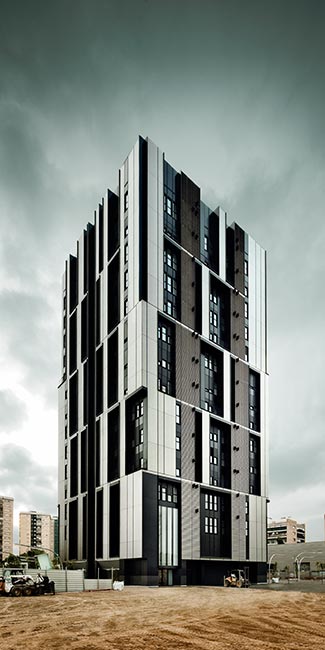 This stunning eco-friendly tower in Barcelona's relatively new Plaça Europa (Europa Square) zone completely shatters the idea of the boring, gray public housing block. Designed by local architects Roldán + Berengué, it is part of a project that includes another 25 other tower blocks, most of them social housing. The naturally ventilated building is an interesting mix of surfaces in varying shades of gray and black, giving it a decidedly futuristic look. Both recycled and 100 percent recyclable materials were used in the building's construction, which began in 2005 and was finished in 2010. The 20-story tower contains 75 units.
28. Poljane Community Housing – Maribor, Slovenia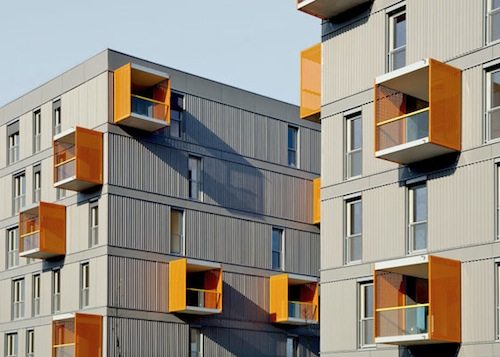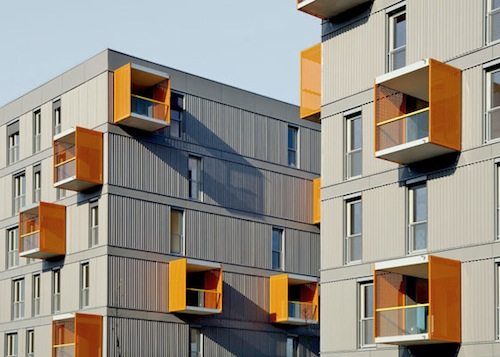 Due to the fact that the Poljane Community Housing project in Maribor is located next to a busy intersection, award-winning Slovenian studio Bevk Perović architects faced spatial limitations when designing the complex. The limited exterior space prompted the company to create large community spaces, either inside the buildings, or on top of them in the form of roof gardens. The designers were also able to incorporate distinctive orange balconies, adding color and character to the otherwise somewhat plain looking walls. Completed in 2007, the four-building complex on the outskirts of the city contains 130 separate apartments.
27. Harold Housing Project – Paris, France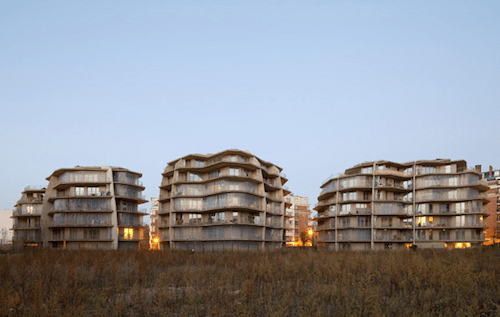 Local architectural studio Jakob + Macfarlane faced a rather tricky environment when designing the Harold Housing Project in Paris, France. Faced with strict land rules, building restrictions and tree preservation orders, the project was divided into three separate apartment blocks, which are connected by a network of pathways. Completed in 2008, the eco-conscious buildings house 100 separate apartments. The complex also features ground-level shopping areas as well as wheelchair-friendly first-floor apartments. And all three blocks have green roof elements, plus rooftop solar-powered heating systems that provide the buildings with more than half of their hot water.
26. Les Nids – Courbevoie, France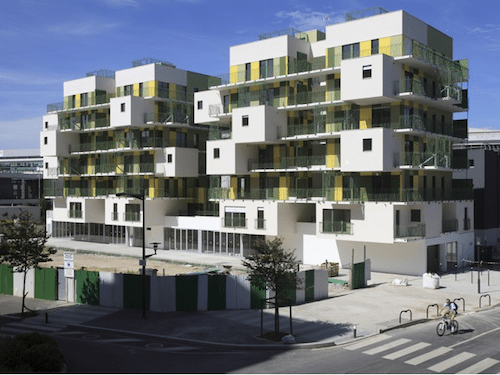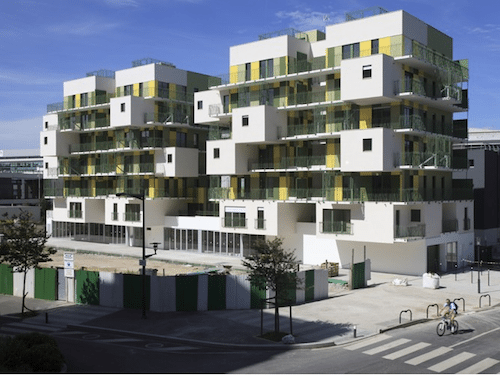 Image Source
The brief for this social housing project in the relatively new urban development zone that is Les Fauvelles in Courbevoie, France was that it should "present new approaches for social housing in densely occupied urban settings." Paris-based KOZ Architects responded with Les Nids, a two-block complex that includes innovative features such as different shaped apartments, large landings and lots of external spaces, offering residents airy views of nearby western Paris. Completed in 2010, the project was commissioned by the Courbevoie Town Council, which collaborated with social housing organization Groupe 3F to initiate a design competition and thus fill the final spot in the area. The complex includes 28 four-room social housing units.
25. Sa Pobla Social Housing – Mallorca, Spain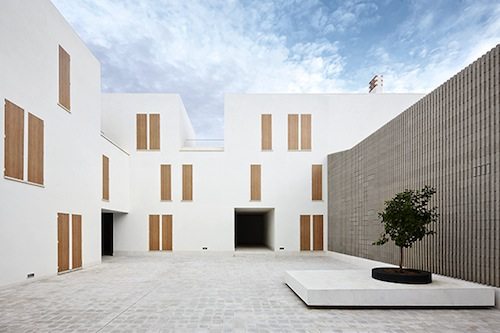 Locally based architectural studio Ripoll Tizon designed the Sa Pobla social housing project in Mallorca, Spain to be both unified in its simplicity and adaptable to the needs of individual occupants. The result? This white-fronted complex, which almost looks more like a holiday resort than the kind of public housing we're used to. The project was completed in 2012 and won first prize in the Best Residential Architecture Project category at the 2013 Architecture Plus Awards. In addition, the 19-unit project was a FAD Architecture Awards 2013 and XII Spanish Biennale of Architecture and Urbanism 2013 finalist.
24. Carabanchel Social Housing – Madrid, Spain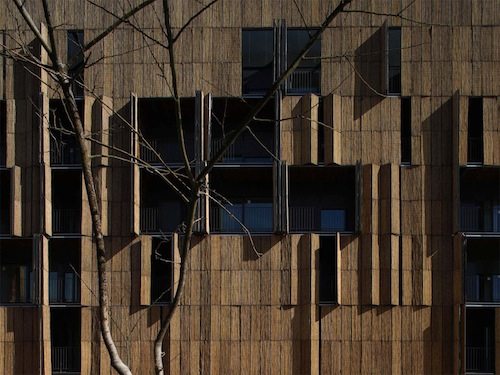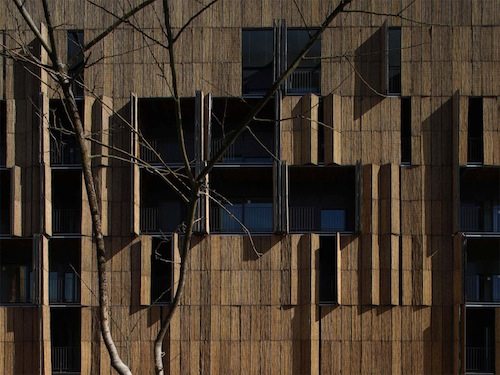 This intriguing looking public housing project in Madrid's Carabanchel district was designed by now-defunct London-based Foreign Office Architects, using what the design studio called "advanced ecological technology." The exterior is clad with bamboo louvers, which provide environmentally sound climate control by keeping heat in during the winter months and offering respite from the searing Spanish sunshine in the summer. The project also includes a hollow "Air Tree" that is built from recycled materials and features solar panels, ivy plants, fans and water sprays, providing residents with shade and clean air much as a real tree would. The development, which was completed in 2007, is five stories high and contains 100 apartments, making it one of Europe's biggest social housing schemes.
23. L'Astrolarbre – Paris, France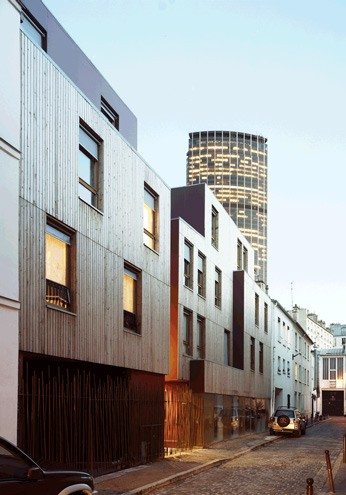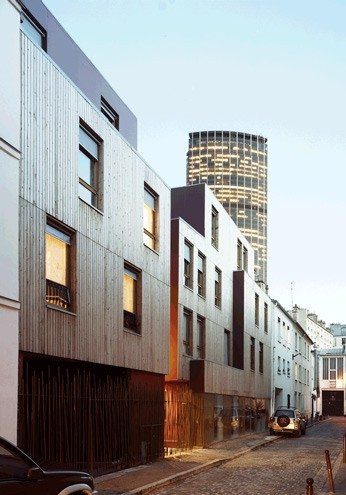 Image Source
When architects from locally based design studio KOZ Architects first saw this location in Paris, France, their attention was drawn to an old maple tree growing on site. The architects decided to incorporate the sprawling tree into the design of the 12-unit L'Astrolarbre social housing project, infusing the urban residential development with nature. "We just couldn't imagine to cut it down," explained an architect from the studio. KOZ Architects also added front gardens to the ground floor and certain first floor apartments as well as an eco-friendly rainwater harvesting system for the entire development. Construction was completed in 2007.
22. Tetris Apartments – Ljubljana, Slovenia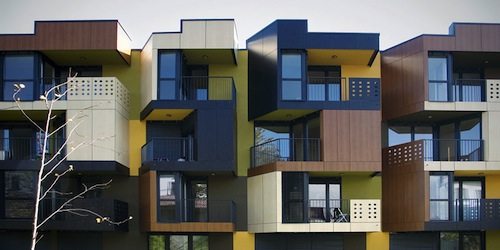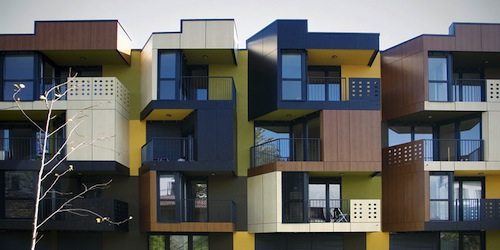 Observing its irregular design, it's easy to see how this block containing social housing in Ljubljana, Slovenia earned its "Tetris" name. Local firm OFIS Architects built the Tetris Apartments building utilizing cost-effective but good-quality materials like granite tiles and oak flooring. Completed in 2007, the four-story structure is situated looking in the direction of a busy highway. To compensate, the balconies and windows were angled 30 degrees away from the highway, and rather impressively, none of the windows and balconies look directly onto another apartment. What's more, to allow for individual customization, only the main walls of the units are structural; the rest can be repositioned as desired.
21. Social Housing in Parla – Parla, Spain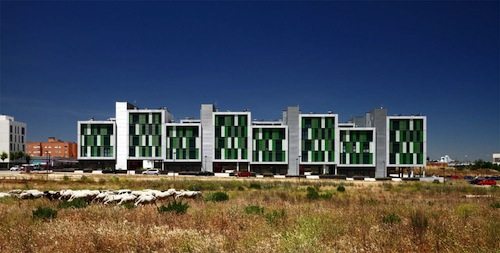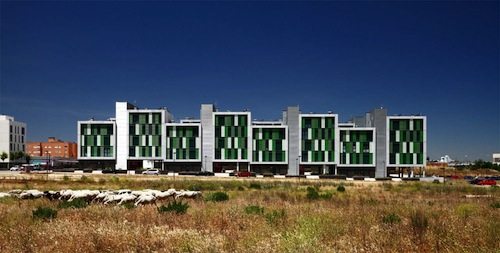 Madrid-based architectural firm Arquitecnica faced the common concerns tied up with developing projects of this nature when designing this social housing scheme in Parla, Spain. The architects had to consider the size and cost of the individual apartments as well as the land that was available to them, and the result was these attractively colored blocks. The design fits the specified purpose and – thanks to the green-patterned façade – blends in smoothly with the surrounding natural landscape. Construction began in 2006, and the project was completed in 2010. Altogether, 120 low-cost units with stylish modern interiors were built with young renters in mind.
20. Hayrack Apartments – Cerklje, Slovenia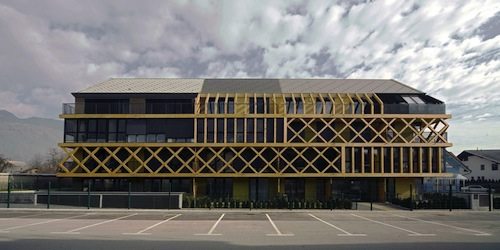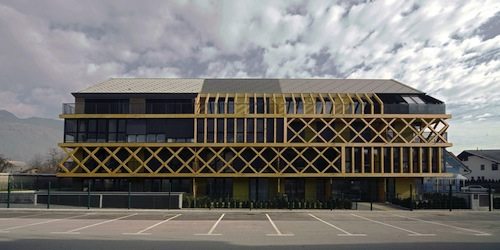 To make the most of the scenic location in the Slovenian town of Cerklje, OFIS Architects designed the Hayrack Apartments social housing project so that most of the units look out onto the neighboring mountains and fields. The crisscross motif at the front of the building was inspired by the traditional hayracks in the area – hence the name. Meanwhile, the structure's L-shape design was built to preserve a 300-year-old lime tree on the property, such that the building and the tree are nicely integrated. The project was completed in 2007 and houses 56 low-cost apartments.
19. Angers Social Housing – Maine-et-Loire, France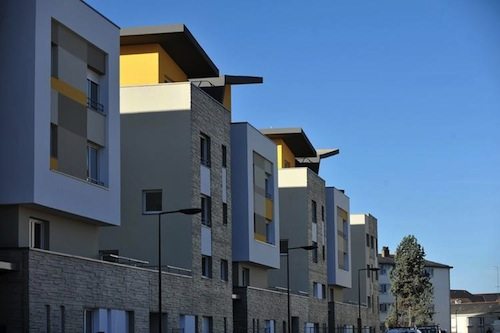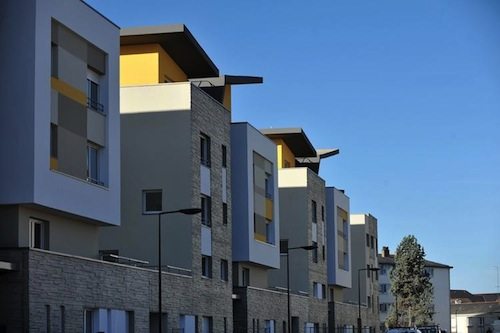 French architectural firm Studio Bellecour designed the Angers social housing project in France's Maine-et-Loire department, aiming to break the mold of the stereotypically negative "concrete block" synonymous with schemes of this nature. Hence, the studio came up with a dynamic design that is both unified and intimate yet still clearly separated and defined for the different units and structures – each of which has an asymmetrical rooftop over an attic. The idea was to create a close-knit and positive environment that retains residents' privacy, and the development was completed in 2010.
18. Vivazz, Mieres Social Housing – Asturias, Spain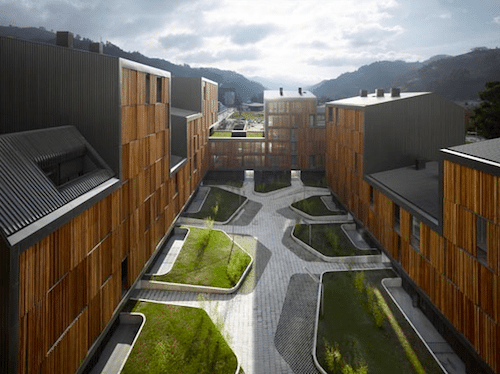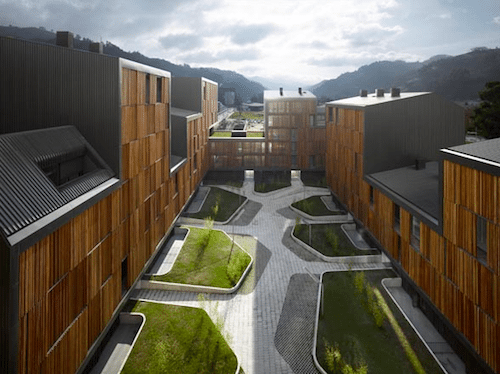 For its Vivazz, Mieres project in Asturias, Spain, French/Belgian design studio Zigzag Architects aimed to create a housing development that maintains a connection to nature. While the outward-facing sections of the structure are made of corrugated steel, their inward-facing counterparts feature a "double skin" comprising sizable windows and movable wooden shutters. The open spaces in the design allow natural light to enter and air to circulate. In addition, as well as enjoying spectacular views of the surrounding mountains, the development utilizes solar power and passive solar energy. Completed in 2010, in 2011 it was honored as a highly commended project at the AR+D Awards for Emerging Architecture.
17. Monterrey Housing – Nuevo León, Mexico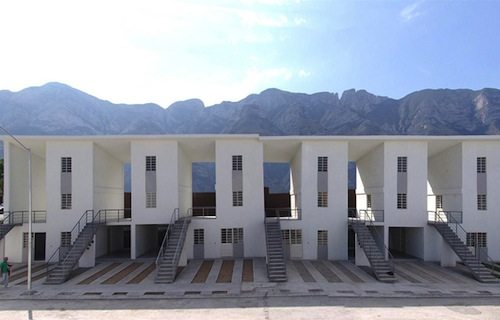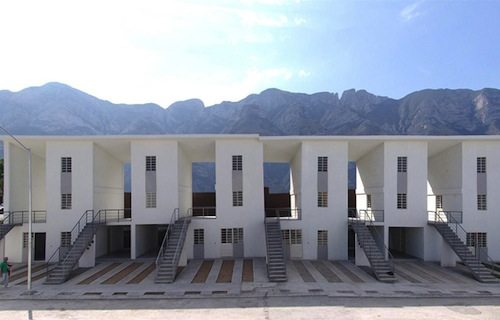 The Monterrey Housing project won Chilean architectural studio Elemental a 2011 INDEX design prize. Located in Monterrey in the Mexican state of Nuevo León, the reinforced concrete units were created with the idea that occupants could modify their particular spaces themselves, depending on their personal finances. For example, the empty spaces between the units provide space for future expansion. Only the essential parts of the houses, such as the kitchens and bathrooms, are ready built. Individual adaptability seems to be an important aspect of many modern social housing projects, giving residents the feeling that they really own and have control over their living spaces.
16. Social Housing for Mine Workers – Asturias, Spain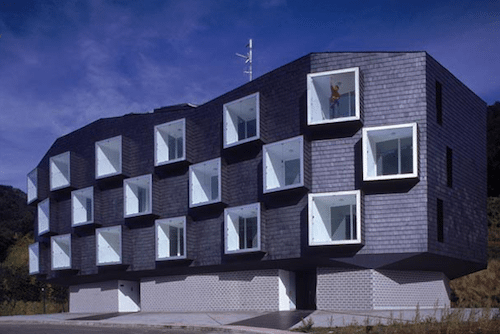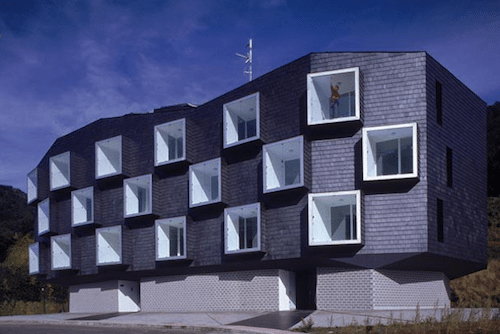 Before this state-subsidized housing development project was constructed in the Spanish mining town of Cerredo, Asturias, it had been a quarter of century since any new homes had been built in the area. Designed by Spanish architectural studio Zon-e and completed in 2009, the two perpendicular blocks were intended to complement the colors of the surrounding countryside. Each apartment has a different floor plan, and all benefit from cross ventilation. The windows also afford stunning views of the surrounding Cantabrian Mountains.
15. Honeycomb Apartments – Izola, Slovenia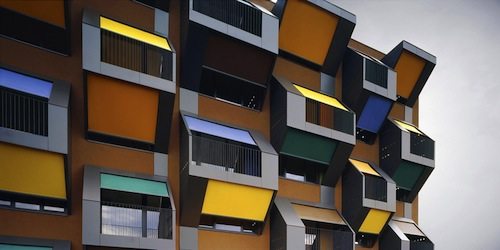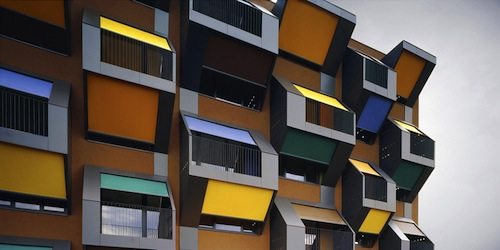 This bright, eclectic and unusual social housing project is situated in Izola in the southwestern part of Slovenia. The distinctive design ensured Ljubljana-based architects OFIS won a Slovenia Housing Fund award in a competition that involved designing inexpensive housing for young families. Dubbed the Honeycomb Apartments, the two blocks enjoy a view of Izola Bay on one flank and look out onto the neighboring hills on the other. Shade and open-air access are important in this part of the world, so each unit has its own well-ventilated balcony area. Residents can also customize the interior of their apartments, while the colored fabric shades above the outdoor spaces provide privacy. Completed in 2006, the project contains 30 apartments in each block.
14. Pearcedale Parade – Melbourne, Australia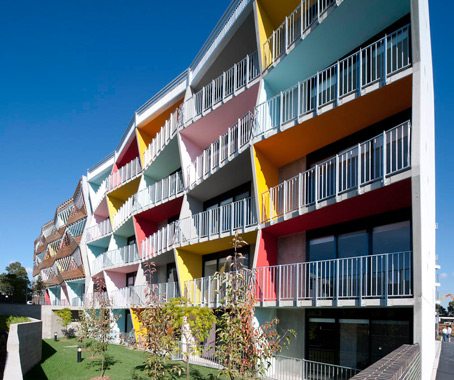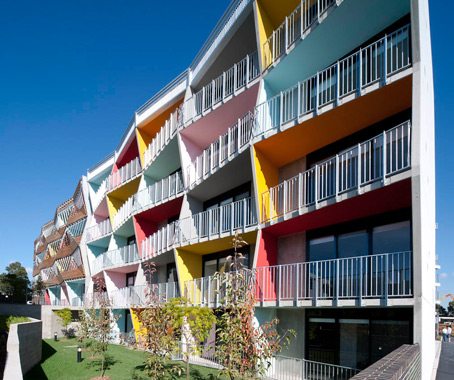 The bright, cheerful colors and quirky architecture of Pearcedale Parade in the Melbourne suburb of Broadmeadows makes it quite an eye-catching development. It was designed by the Victoria-based branch of CH Architects and was funded by the Brumby Labor government and Yarra Community Housing, a non-profit body dedicated to providing affordable accommodation to Victorians who need it. Completed in 2010, Pearcedale Parade contains 88 cross-ventilated units, and the development also boasts solar-powered hot water and heating. The dignity of occupants was an important factor in the design process, and the hope was that the finished project would change the way people think about community housing.
13. Bondy Social Housing – Paris, France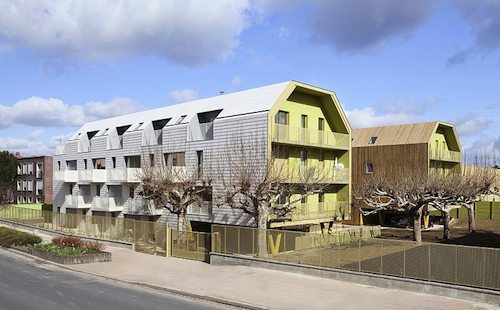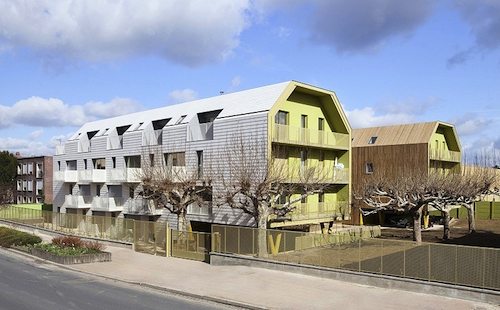 Thirty-four families were relocated into this stylish and energy efficient social housing building in the suburban municipality of Bondy in northeastern Paris. The units were designed by Parisian architectural studio Atelier du Pont. Built in a U-shape around a centralized courtyard, the development features a high-ceilinged roof which may have been installed by professionals who may know that metal roofing needs specialist paint, and the units benefit from ample natural light, balconies, and passive solar design – while rainwater is also used to provide eco-conscious cooling. Financed by social housing organization Immobilière3F for low-income families, the building was ready for occupation in 2010.
12. Salburúa Social Housing – Álava, Spain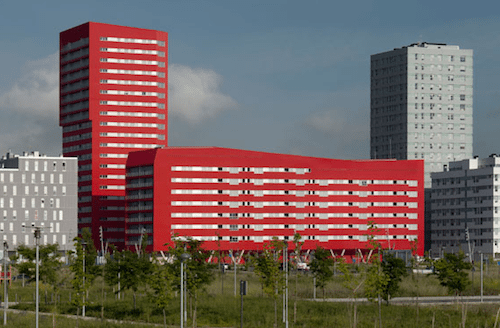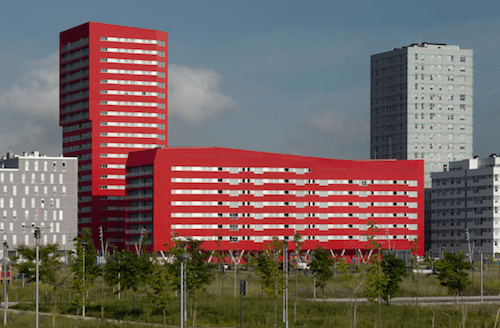 Image Source
This housing development designed by international architectural firm ACXT proves that social housing blocks don't have to be limited to the dull brown and grey shades often associated with them. The bright red color of the building leaps out from its much less vibrant surroundings, and the facility features a 21-story tower and a lower block of differing levels. Located in the Salburúa district of Vitoria, in the Álav province of northern Spain's Basque Country, the apartments were built with consideration given to both energy efficiency and the comfort of residents. In Salburúa, social welfare is a matter of pride for the city council, which regards decent housing as the right of all citizens, no matter their economic status.
11. Hollande Social Housing – Pas-de-Calais, France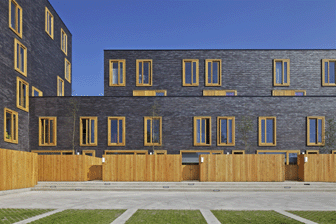 Image Source
The influence of the 1970s architecture that surrounds this building is obvious. As for the structure itself, well while its shape may be somewhat conventional, there is actually little that's boring about this housing project in Béthune in the French department of Pas-de-Calais. The opaque black bricks of the exterior contrast with the light-colored wood used for the window frames and fencing, while the asymmetrical window placement adds a certain quirkiness to the otherwise slightly plain looking walls. Paris- and Geneva-based designers FRES Architectes developed the project for social housing specialists Pas-de-Calais Habitat, and the building was completed in 2012.
10. Savonnerie Heymans – Brussels, Belgium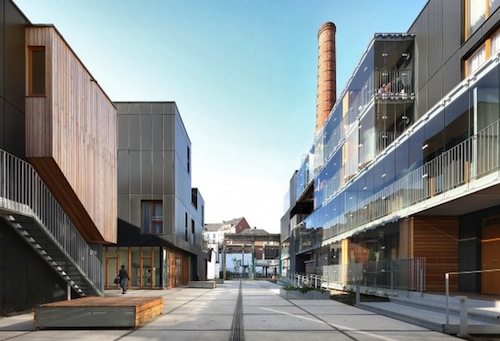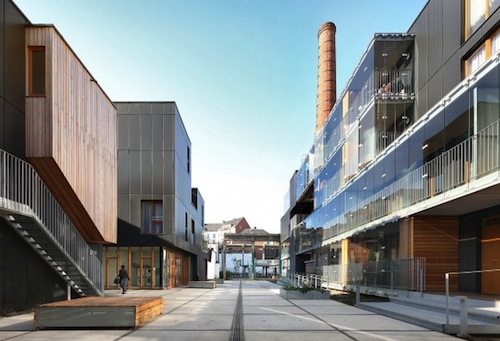 The Savonnerie Heymans social housing project is an attempt to create an entire environmentally friendly neighborhood consisting of public housing. Designed by local firm MDW Architecture, the development offers various apartment types, including lofts, maisonettes and duplexes, all of which incorporate energy-efficient qualities. Solar power and rainwater harvesting are just two of the eco-conscious features of the complex, which is built on the site of an old soap factory and utilizes the original structural elements where possible. You can see the old chimney for yourself. The 42-unit complex, which was completed in 2011, won a 2012 Prix Bruxelles Horta Award and earned a special mention at the 2012 Belgian Building Awards.
9. Les Loggias – Paris, France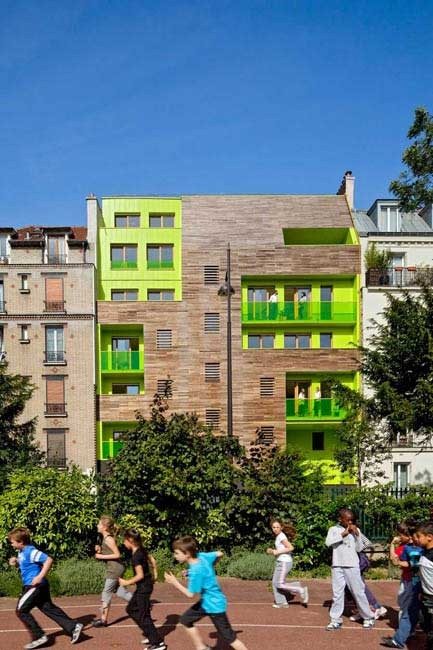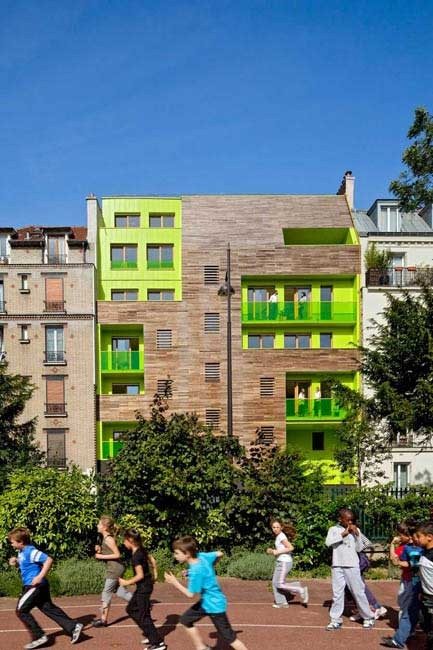 Image Source
The timber façade and bright green paint of the Les Loggias housing project in Paris' arrondissement de Reuilly sets it apart from its noticeably less vibrant neighbors. Paris-based agency KOZ Architects designed the building, giving consideration to both the environment and the needs of its inhabitants. Completed in 2011, the block is clad in neat looking ash timber, which is at once durable and cost effective. The interiors were designed to receive as much natural light as possible, and the building also features exterior insulation as well as eco-conscious solar panels.
8. Elmas Social Housing – Sardinia, Italy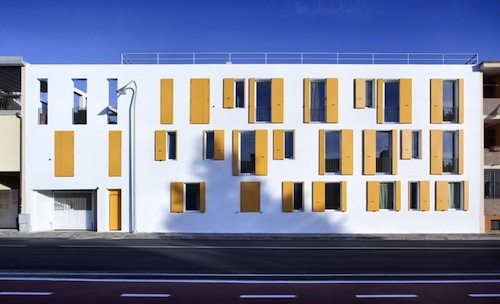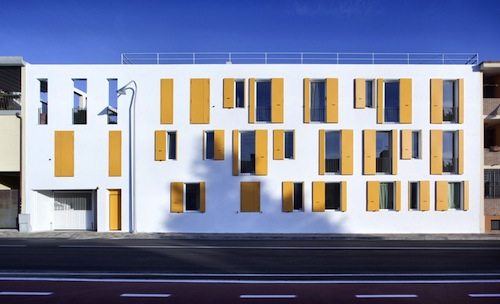 The colors of the Mediterranean were incorporated into the sunny white and yellow design of this social housing project in Elmas, Sardinia. According to Italian architects 2+1 Officina Architettura, the differently spaced and sized windows "create a vibrant and binomial play of open/closed." The development has a walkway balcony with brise-soleil screening used as a form of climate control, and shutters on the north side of the structure shield against chilly winds. Materials were chosen to be both affordably priced and long-lasting, and the development, which was completed in 2010, includes a courtyard as well as ground floor duplexes.
7. Pormetxeta Social Housing – Baracaldo, Spain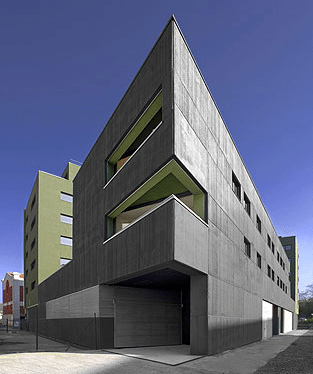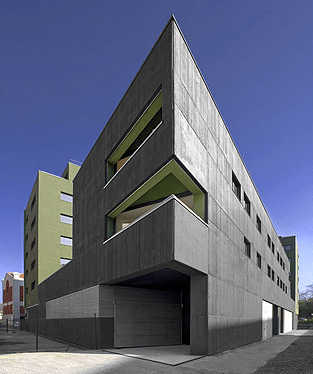 Image Source
Completed in 2007, Spanish architects ACXT's state-subsidized housing development in Pormetxeta, Baracaldo, in the north of Spain, was spearheaded by the local Basque government. Although the complex is made of prefabricated concrete, its sharp angles and modern, two-toned color scheme prevent it from resembling traditional public housing blocks. Forty-six units are housed within two separate buildings, and parking space is also provided. The plan won first prize in a scheme design competition.
6. Parc Central Social Housing – Valencia, Spain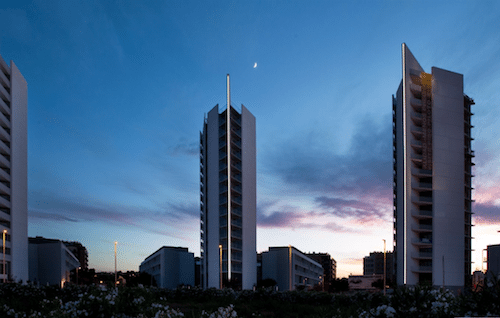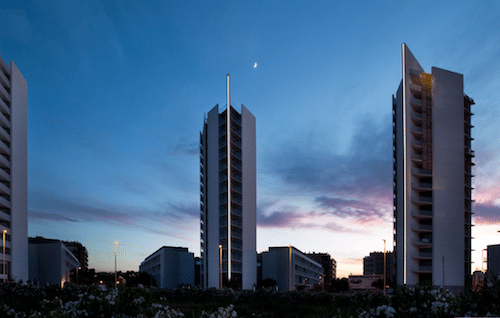 The Parc Central Social Housing Building in Valencia, Spain is made up of a large number of units shared among three non-identical towers built around a central courtyard. Two Spanish agencies, Office of Architecture in Barcelona and Peñín Architects, were involved in the design of the modern looking, aesthetically pleasing white buildings, which are situated in a landscaped park space. The project was completed in 2010.
5. Hatert Housing – Nijmegen, Netherlands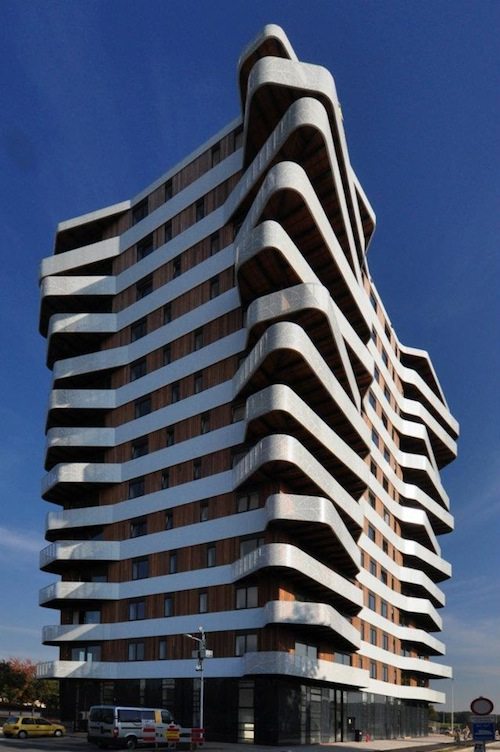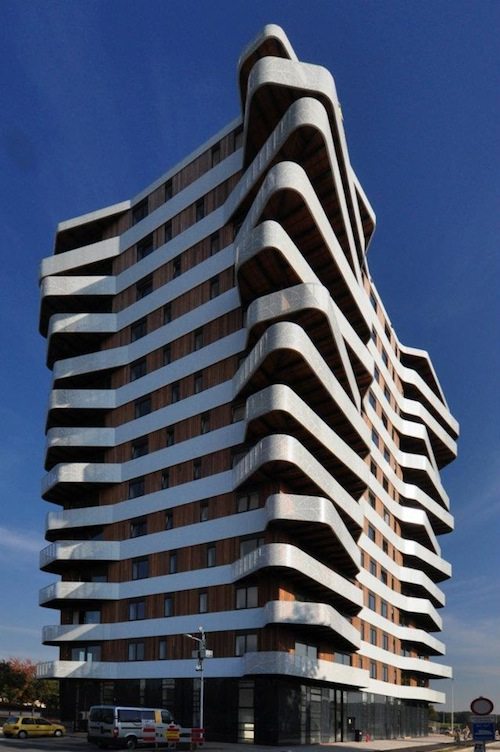 Tower Hatert in the Dutch city of Nijmegen is part of the local government's plan to invigorate its housing. The rippling, sculpture-like 13-story building was designed by Rotterdam-based studio 24H Architecture, and it houses 72 apartments as well as a health care center on the ground floor. The timber used throughout the construction is FSC certified. And the non-aligned balconies – with the railings apparently inspired by leaf patterns – ensure that each unit gets enough natural light, while also offering residents uninterrupted views of their surroundings. This futuristic looking tower was finished in 2011.
4. Zabalgana Social Housing – Álava, Spain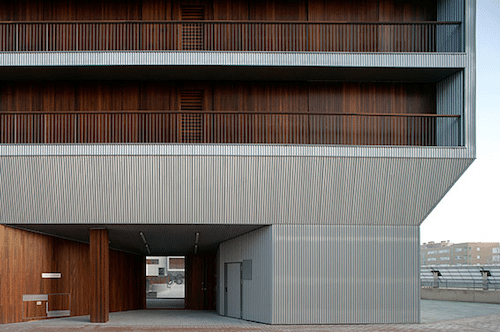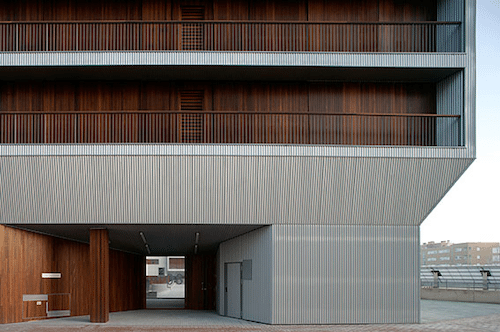 Image Source
In Zabalgana, Vitoria, in northern Spain's Basque province of Álava, Spanish architects ACXT developed this striking social housing project, which contains 65 residential units. Completed in 2006, the building incorporates wood on the balconies and in the foyer area, providing aesthetic warmth and complementing the building's colder, stylish metal cladding. Despite strict affordable housing guidelines, ACXT stuck to their aim and achieved what the company describes as "a deep environmental and landscaping sensibility." The project was pushed forward by the VISESA group, which is financed by the Basque government.
3. Tête en l'air Social Housing – Paris, France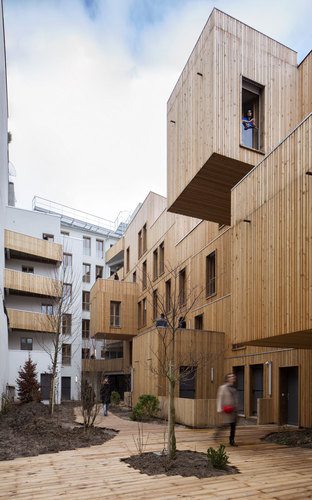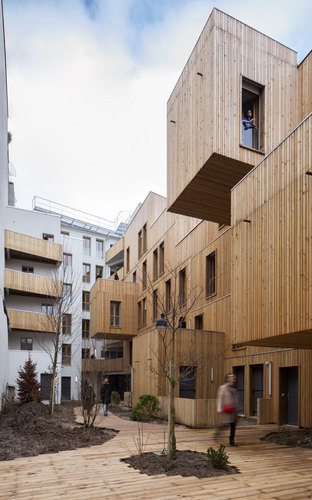 This wooden structure may look more like an ancient fort than a modern complex in a busy metropolis, but Paris' Tête en l'air (meaning "head in the clouds") social housing project is definitely the latter. Designed by Paris-based agency KOZ Architects, the complex, which includes thirty units – 15 brand new and another 15 rehabilitated from the pre-existing structure – was completed in 2012. The project was undertaken for social housing organization SIEMP, a group committed to sustainable architecture, including the renovation of older buildings.
2. Sint-Agatha-Berchem Housing Project – Brussels, Belgium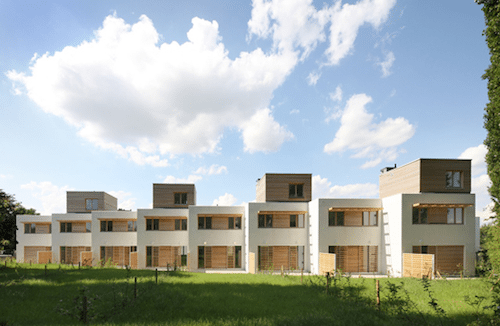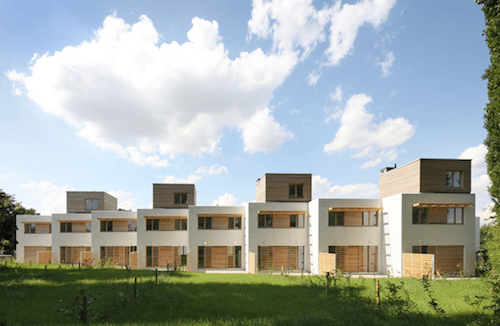 This project in the Brussels municipality of Sint-Agatha-Berchem may be new, but the district it is located in has been dedicated to social housing since the early 1920s. Architect Victor Bourgeois created the original district, and Belgian architectural firm Buro II & Archi+I designed these new units, which were completed in 2012, to complement Bourgeois' cubist style. They are also low-energy units that incorporate solar panels, rainwater retrieval systems and eco-friendly materials – a far cry from the gray tower blocks many picture when they think about social housing.
1. Le Lorrain – Brussels, Belgium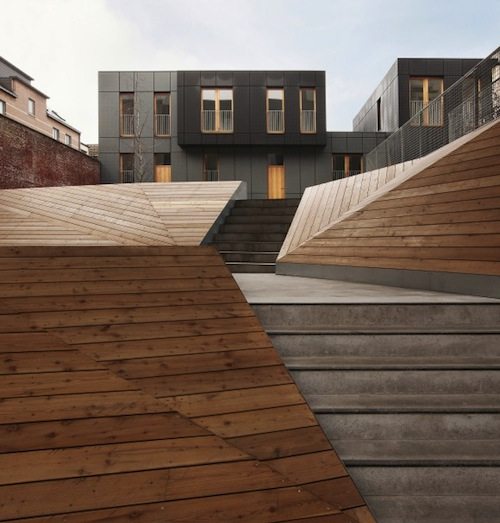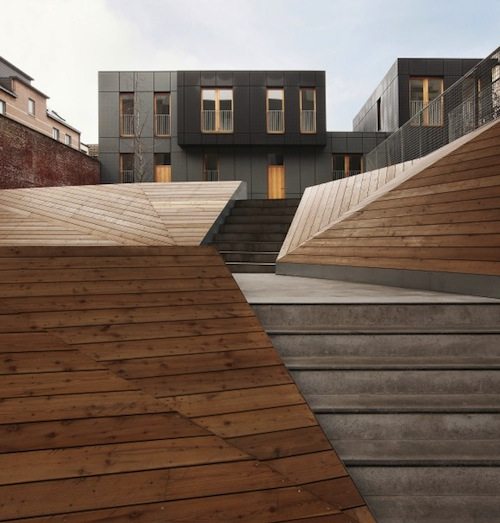 Designed by Belgian agency MDW Architecture, the Le Lorrain social housing project is actually a repurposed old iron dealer facility located in Belgium's capital, Brussels. Completed in 2011, the new complex consists of a multi-unit apartment building and three terraced maisonette homes, each of which has its own private garden. Originally, a high wall surrounded the eastern side of the site, but this was lowered to allow in more light, and the complex has a large, open communal space for residents to use. The design of Le Lorrain is contemporary, yet it still retains a vestige of the site's industrial heritage.